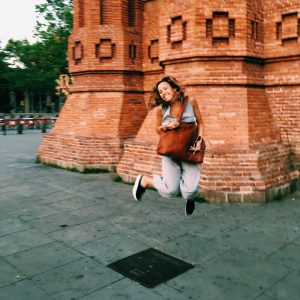 Olivia Schreiber, or Liv, as she prefers to be called, is an ALBA Study Abroad student and our awesome social media marketing intern. You can follow her photos via our Instagram here. She shares her thoughts on a regular day during summer abroad in Barcelona with us below:
Studying abroad has been an incredibly gratifying and unique experience. I've learned so much about myself and the culture of Barcelona, have had tons of great food and have made even better memories.
Barcelona seems to be a country of its own, speaking and following the Catalan way of life regardless of its connections to Spain. I've noticed that mentally I now tell people that I am studying in Barcelona as opposed to the generalized 'Spain' as a means to separate the two in my mind. I've been working on learning both Spanish and Catalan, though I feel that Catalan may take some time.
As for my internship, I have been working daily on snapping pictures for social media. The internship does not begin, or cease to end, at any given time: it is a constant process. Starting at 9:30 AM and on my trek to school I always am exploring different routes to class on my 30-minute journey (which occasionally leads me to being a tad tarde. Sorry, professor!). On these early morning journeys, I have discovered the best road for bakeries, the most underrated tourist shop street, and the best boutiques to window shop. Once arriving at ALBA and conversing with Eloy, the very chatty security guard, I proceed to leap into my classroom with a smile. There, I begin my two-hour learning venture with Micah and my 35-year-old married classmate, Porter. We speak strictly in Spanish for these two hours, reading from our textbook, divulging into pop culture discussions about Barcelona's opinion on Enrique's music (they hate it) and Gwyneth Paltrow (they love her). In our discussion, I have found that I understand more than I can speak. But that's okay, because the more I 'put myself out there,' the more I learn and feel comfortable speaking. As I talk, Micah gently corrects my vocabulary and assists me in finding more words to adeptly describe my English thoughts in Spanish. The goal? To think in Spanish.
After my first class (which goes by quite fast, for two hours!) I greet my other three classmates in the office of ALBA and we make our way downstairs to meet our professor, Carmen, for the next two-hour class. But this is not a regular class, you see. Each day is new, more exciting, and more eye-opening than the last. I call this class my "walking tour, class of experience" course. And that's exactly what we do: walk, talk (only in Spanish) and learn all about Barcelona from Barcelona itself. What an incredible concept! This is the class I take the most photos in, because it gives me the ability to discover the city whilst capturing memories forming in their exact moment. My phone is always turned on and snapping away. I try to convey (to my social media audience) the awe in the students' eyes as they learn that Montjuic, the pretty castle on a hill, was also used to kill captured prisoners. I use my phone to show the excitement Carmen radiates as she explains that the Museo de Gigantes is more of a house for giant parade mascots than a museum. Later, they come out as part of the San Juan celebration. I use my phone to convey the sights, sounds, and textures of the neighborhood of Born, where my class sat on a concrete bench and diligently filled out worksheets as mopeds raced by. Click, click, click.
On Mondays and Wednesdays, I race home from Carmen's class, eager to charge my telephone before I journey out on my own. I walk to Bailen, where a very old, creaking elevator slowly brings me to the fifth floor of an apartment for singing lessons. I let my voice fill the room of a small salon, feeling shy, yet proud of the bellowing sound of a raspy voice that I must claim as my own.
On Tuesdays and Thursdays, I give myself until 5pm to venture into the neighborhoods surrounding Via Laietana, where I find myself tasting (and documenting) my first tea in ChiCha Limon, feeling the smooth surfaces of Rose Quartz crystals in Crystallojan of Born, walking on the beaches of Barceloneta, and shopping in Bershka on Paisaje Gracia. I race home to throw on my dancing clothes and drop off my laptop, motivating myself to make the hike past la Segrada Familia, up a huge hill, to arrive at my Zumba class with friendly Spanish speaking moms and teens. I love blending in to the rhythms of the class, taking control in center middle, learning the newest routine to Michael Jackson or Lady Gaga. I feel like an insider, as most of the class does not know that I actually do not belong, that I am a phony American grooving my hips to Shakira and rolling my rrr-s as if I've been eating paella all my life.
After class, I go home to do my homework, and edit the hundreds of photos I took that day in class. Once I FaceTime my parents and best friend to fill them in, I take my new $50 Spanish running shoes for a spin, sprinting down the streets of Barcelona, with "Volvi A Nacer" blasting rhythm into my ears. I run and take photos, passing under the Arc de Triumf and gliding into the Parc de Cuitadell. I stop to take photos of girls teaching boys to skate, of fountains gleaming in the sunset, of dogs leading their owners. I run and sprint and jog and cough as I suck in the second hand smoke of an elder in front of me. Returning to my apartment, I stop at one of the seemingly thousand Super Mercats, where I typically converse as a fake Spaniard with the cashier. I love trying to trick citizens of Barcelona into thinking that I am one of them.
After unloading groceries and snacks into my section of the shared refrigerator, the sky turns dark and I must choose whether to eat dinner or snack on my fruits and veggies. I fall asleep listening to Netflix in Spanish, talk more with friends and family, update ALBA's Instagram and Snapchat, and fall asleep around three on top of my covers, sweating through the heat and city noises of the night.