By: Courtney Finnigan and Lizzie Triplett
As I am approaching my last few weeks of study abroad, I can't even fathom the idea of having to leave Barcelona.  I have developed a deep love for this city that is indescribable.  The friendly people, vibrant culture, and unique architecture of Barcelona continue to amaze me every day.  Listed below are some of the most memorable places and things I have done here in Barcelona that have made my study abroad experience truly one of a kind.
My 5 Favorite Places/Things to do in Barcelona
#1. Bunkers Del Carmel
One highlight of my abroad experience is the Bunkers Del Carmel. The Bunkers offer one of the most amazing lookouts of the city of Barcelona. I have gone to Bunkers almost every week to watch the sunset and the view still takes my breath away.  You can see every piece of architecture that makes up the city of Barcelona, including La Sagrada Família.  Often times my friends and I would bring wine, cheese, crackers, and a variety of meats to eat while watching the sunset.  It is a great way to appreciate the amazing city you live in while being around the people you love.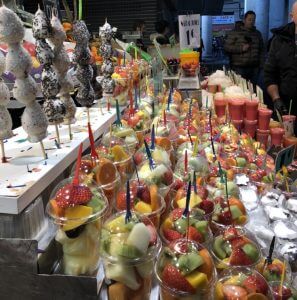 #2. La Boqueria
La Boqueria is a fresh produce, meat, and seafood market located on La Rambla.  Locals go there often to get their daily fruits and veggies.  It is constantly packed with people trying different samples and conversing with the venders.  My friends and I would come here once a week to try different samples.  It's a great way to immerse yourself in the true Catalan culture as well as try out different things to eat.
#3. The Beach
My abroad experience would not have been the same without the beautiful beach of Barceloneta.  Often times I would come here with a large group of friends and play beach volleyball or roller blade on the board walk.  We developed a routine of getting drinks at El Pacífico and then watching the sunset.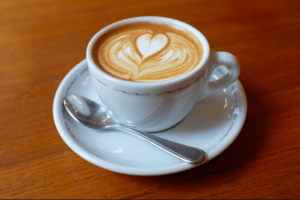 #4. El Mos
One of my favorite things about Barcelona, that made my abroad experience so memorable, is the local coffee shops.  I developed a daily routine of stopping by El Mos every day on my way to class.  At first, I had no idea how to communicate with the workers as they all spoke fluent Spanish.  However, after catching on to some common phrases such as, "café con leche" and "para llegar", it became easier to converse with them.  Eventually, the workers became my friends and I would be greeted with a huge smile every time I walked in.  They even memorized my order!  I felt like a true local coming here.  Although this is just one small thing that I loved to do through my time in Barcelona, it is what made me feel so at home and comfortable.
#5. Going for a Boat ride in La Cuitadella
Just a few minutes walk from the Arc de Triumph is a green oasis with a centrally located lake where you can go row boating.  I would come here on the warmer days in Barcelona to bask in the sun and enjoy time outside. My abroad experience would not have been the same without the row boats because of the many memories I made here.  During one of our row boating sessions, one of my good friends, Ken, got dared to jump into the lake.  He clearly didn't anticipate how cold he was going to be after because he actually did it!  We were all laughing and cheering him on as he jumped.  The metro home was just a tad embarrassing!
Since Barcelona offers an endless amount of activities and places to go , it is almost impossible to explore all that it has to offer.  Here are some of the things I wish I had done while studying abroad and hope to do before I leave!
Places I Want to go Before Leaving
#1. Park Güell
Park Güell offers a very similar lookout to that of the Bunkers Del Carmel. However, at Park Guell you can admire the amazing architecture of Gaudí.  I would love to come here before I leave since I have heard nothing but great things about it.  It is definitely on my bucket list!
#2. Madrid
The major place I wish I had gone during my abroad experience would be Madrid.  Multiple friends on my program visited here and said it was absolutely amazing. You can take a direct train and get there in about two hours.  It was my goal to travel all throughout Spain while studying abroad, so I am extremely sad I didn't have the opportunity to travel to Madrid.
#3. De Greco
If you love Beyoncé, then you're in luck!  De Greco is an Italian restaurant in Barcelona that just so happens to be Beyoncé's favorite restaurant.  You can bring your own bottle of wine to drink and they open it with no service fee.  They also give you samples of everybody's food choices so you get to try everything!  The white truffle ravioli is apparently everybody's favorite. :)
Here are some frequently asked questions by friends and family members that will help you better understand my abroad experience!
Have you improved your Spanish?
Yes.  I am constantly immersed in the language and hear it all around me.  I have picked up common phrases and am able to communicate with the locals much better than when I first arrived in Barcelona.
What do you think about the location of your apartment? Is it convenient for going to school, out..?
My apartment was located in the Gothic Quarter- about a 10-minute walk from ALBA and a 15-minute walk from the beach. I absolutely loved the location of my apartment because it was in the very heart of the city. It was the main meet-up place for my friends and I before going out and doing our daily activities.
How many cities/countries do you plan on visiting during your whole stay?
I have visited 5 countries throughout my abroad experience.  I planned them so that in between every weekend trip was a weekend in Barcelona.  That way, I could spend three full days exploring Barcelona and different cities in Spain.  It is highly encouraged that you travel throughout Spain instead of traveling to a different country every weekend.  You'd be surprised at how beautiful places are just a couple of hours outside of Barcelona.  In fact, Costa Brava was one of my favorite places I went to!
Have you been homesick during these weeks? If you have, what have you done in order to feel better?
There are very few times where I have been homesick during my abroad experience. Being based in a city where there are endless activities and places to go distracts you so much that you won't have time to think about home.  You are constantly busy and always out and about.  If I did ever start missing home, I would go to the beach or even the Bunkers to remind myself how lucky I am to be in Barcelona for three months.
Describe Barcelona in 3 words or adjectives
Adventure-filled, unpredictable and beautiful
How is the work load studying abroad?
The work load was the perfect amount where I felt like I was learning a lot but still got to enjoy and explore all that Barcelona has to offer. Being in Barcelona is an education in itself!  I learned not only through school but through being abroad in general.
Have you had any cultural shock during your stay? what do you think now?
There was definitely a culture shock in the beginning! You have to adjust your typical routine at home to that of the locals in Barcelona. For example, I had no idea that it is common for people to have 2-3 hour lunches. We are used to taking food on the go back home. Sitting down for long lunches was something I had to adjust, not that I can complain :)
What is the most important thing you have discover/learn in your time abroad?
The most important thing I have learned is to cherish every moment during your abroad experience. My time here went by with a blink of an eye and I wish I could stay longer. I regret days that I didn't spend exploring and was in my apartment.  Never waste a second of your time here and always take advantage of the amazing things Barcelona has to offer!
Do you think that studying abroad will slow you down on the road to graduation?
Not at all!  If anything, studying abroad will help me further reach my education goals and requirements for graduation. Not only that, but it will help enhance my future career and opportunities.  Check out this article if you want to read more about how studying abroad in Barcelona will help you in the future.
Have you ever had safety concerns while abroad?
Yes. Traveling in a foreign country will always spark some concerns.
What has been the hardest adjustment you´ve done to make?
My hardest adjustment has been not being able to eat ranch dressing since it is not offered in Barcelona L.  Just kidding!  In all seriousness, my hardest adjustment was navigating myself around the city without using maps.  I had to communicate with locals and read signs in Spanish which I was not used to.  It eventually became so easy to navigate without maps that I could go places alone without feeling stressed or anxious.
What has been the most challenging part of your trip?
COOKING!  It took my roommates and I about 45 minutes to figure out that we had to light our stove with a match in order to heat it. Figuring out how to cook dishes other than pasta and pizza was also a challenge.  By the end of my 8 weeks, I was able to cook a variety of different meats and make dishes I never thought I would before.  I am going to come back to the U.S. a changed woman!
What have you missed about the US while you are away?
For me personally, I haven't had time to miss the U.S. while I've been here.  When traveling abroad, down time is minimal and you are constantly distracted.  I spent almost everyday exploring and appreciating Barcelona.  However, if I had to choose one thing it would be my family and friends that are not studying abroad with me.  Since we are 9 hours ahead, it is hard to keep in touch with them.  I managed to develop a routine where I would take time out of my day to update them on how I was doing!
What do you think you will miss about Barcelona when in the US?
There is not one specific thing that I am going to miss about Barcelona.  In all honesty, I am going to miss the city as a whole so much when I go back.  Through my abroad experience, Barcelona has become a second home and a place of comfort and happiness.