By Lexy Beyer, ALBA Ambassador and Alum
Something that wasn't on my bucket list a year ago: live in the Amazon rainforest for 3 weeks studying biology.
I'm a business major from Oregon. How did I find myself on a wooden boat with a roof made of leaves cruising down the murky Amazon river to study biology in the jungle? To be honest, I'm still not quite sure. The thing I am sure of now, however, is that it was one of the best decisions I ever made.
When ALBA's Executive Director, Charles Harris-Inman, first said to me: "How would you like to live off the grid studying biology, on an internship abroad, in the Amazon rainforest for a few weeks this summer?", my mind immediately went to every survival show I've ever seen on the Discovery channel (i.e. crazy people covered in bug bites rubbing sticks together and drinking muddy water). Despite that image, of course I was intrigued. A week later, I grabbed a coffee with the director of the Evergreen Institute, Neus Collado, and she enchanted me with her description of life in the quaint campesino community of San Rafael, Peru.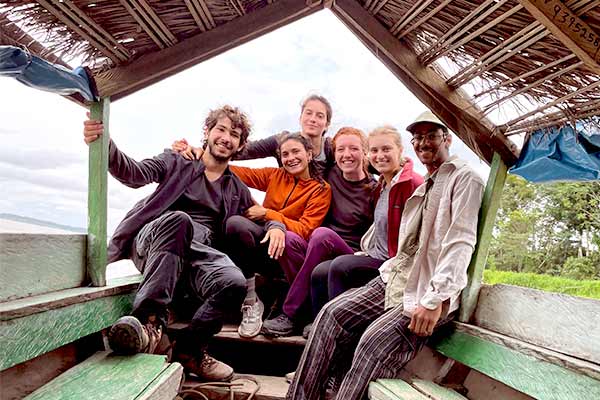 What are San Rafael and the Evergreen Institute?
San Rafael
San Rafael is a community of around 350 people of all ages, located in the Amazon rainforest about 1-2 hours by river boat from the remote city of Iquitos, Peru. The community has plenty of safe water to drink, but no running water in the homes, and only has consistent electricity for about 3 hours per day. Cell service reliability depends on which monkeys are holding up the antennas that day.
The scenery around San Rafael is beautiful and so are the people. Everyone always greets each other in passing, and are so welcoming to the Evergreen Institute volunteers. Family is very important as is respecting elder members of the family. The majority of the people work in subsistence farming, fishing, the local butterfly farm (mariposario), home-based convenience stores, or provide various trade skills for the community. A few even travel to Iquitos and beyond for work. Women and men in San Rafael typically follow traditional gender roles: women spend more time in the home while men typically have jobs outside of the home. Many of the population have lived in San Rafael their whole lives, others moved there because they married someone from San Rafael, and some moved there because the community they lived in before didn't have access to as many resources and opportunities. The many wonderful children attend the only school in the community for most of the year, as well as helping their parents around the house and sometimes working jobs outside the home as well. For fun, they play soccer and volleyball, dance, read, swim, fish, go on boat rides, and are always excited to learn new games. A lot of the children I spoke with have dreams to travel outside of San Rafael after they finish school, learn English, and pursue higher education and/or careers in specialized fields.
EverGreen Institute
The Evergreen Institute is a nonprofit organization that works to enrich the lives of both the families in San Rafael as well as the volunteers who work with them by providing a means of invaluable intercultural exchange. In addition, the Evergreen Institute hosts an internship abroad and teaches its volunteers, by the hand of members of the community, how to help contribute to rainforest conservation and conduct vital biological research to better understand the amazing ecosystem that is the Amazon rainforest.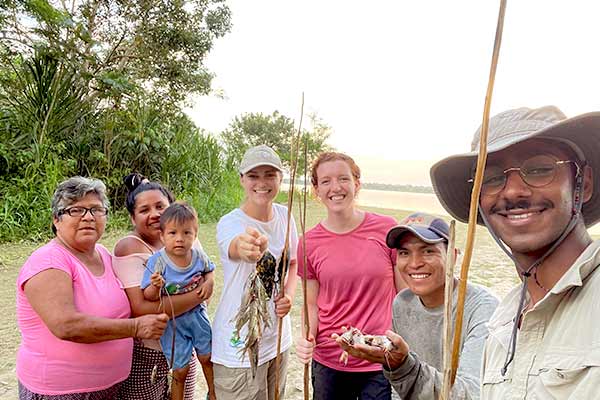 My Experience & What you can Expect:
Intercultural Exchange
As a volunteer (or "Greener", as we're called), I got to do a little bit of everything that the Evergreen Institute offers and had a very fulfilling experience. Everyone lives with a host family in the community and you rotate families every 10 days for the opportunity to get to know more people. Both families I lived with had children in the house, some younger, some older, and I loved spending time with all of them. Some of my favorite things to do with the kids were play cards, go swimming, listen to music, and practice each other's native languages.
Food in San Rafael is a little different from what we're used to at home. All of the volunteers would eat breakfast and lunch together in the Evergreen House, and then have dinner with our host families. I enjoyed all the foods my families prepared, and only got sick once after drinking questionable homemade chicha de maiz. We ate a lot of rice, eggs, chicken, fish, bread, potatoes, legumes, papaya, and bananas in all forms. The Evergreen Institute and the host families were accommodating to dietary restrictions as well.
Research and Sustainability
A huge part of the Evergreen Institute's mission is to set an example of rainforest preservation and sustainable development that allows for the citizens of San Rafael to live healthy and happy lives without being a detriment to the local environment. They do this through community education and hands-on biological research. Every week us volunteers had a schedule of what activities we would be doing and when we would have free time to play, do laundry, bathe, etc. The first few days we had a jungle survival course that was fun, interesting, and a great team bonding activity to get to know the other Greeners. For the following weeks, we learned how to gather ornithology and herpetology censuses and other data. From going out with a pair of binoculars, to humanely capturing the birds, amphibians, and reptiles, to taking measurements and creating reports, we got our hands dirty and learned firsthand what it takes to be a wildlife biologist in this unique ecosystem. The information we collected will help the biologists better understand the local ecosystem, the specific species that make it up, and which areas could use some help or human protection.
We also got to spend time in the mariposario (one of my favorite parts) working with locals who are so passionate about butterfly conservation. The mariposario is important to the community because it provides jobs, income from tourism, and beautiful butterflies in every size and color that float all around San Rafael. These butterflies are very important pollinators and a huge part of the rainforest ecosystem. We got to capture wild butterflies, collect eggs from the enclosures, and learn about every step of metamorphosis.
Education
Something that was eye-opening and heartwarming for me to see was how passionate some of the kids are about school. In San Rafael, all kids ages 18 and under attend school almost year-round, all under the same roof in the one school in the community. Many of the students of all ages attend after-hours to keep up on their homework and get one-on-one help from their teachers. They see education as the privilege it truly is and are excited to learn new things. As an Evergreen Volunteer, I and my peers were able to spend time in the classrooms as well, helping with homework when we could or just being there to talk with the kids to share about our different cultures or learn about their favorite subjects. The English classes they have at the school are not taught by a native English speaker, so it was rewarding for me to be an English language resource for them during some of those after-hours sessions. It was really important to us as volunteers to be good role models for the kids, inspire them to follow their dreams, and show them that they are capable of anything.
Whenever possible, a lot of the volunteers and I would try to involve the kids in some of the biology projects we were doing. They loved seeing pictures of the creatures we found on our census days. One day, someone in the community found some wild snapping turtle eggs that we decided to build a safe nesting box for near the school. While we were building the box, half of the school came outside to watch us, see the turtle eggs being carefully put into their new "nests", and ask a ton of questions. On one of our last days in the community, my fellow volunteer led a community clean-up project. She taught the kids about reducing garbage pollution in a fun and interesting way, and then we each led a small group around the area with bags to pick up any plastic waste we found laying about. The kids were all super enthusiastic about the project and got to put up posters they made around the community reminding people to properly dispose of their trash.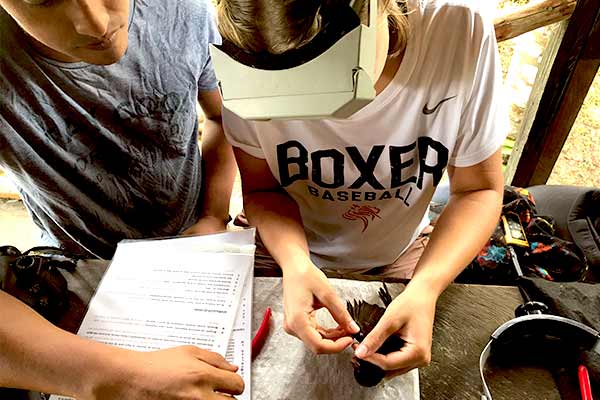 Takeaways:
Quick reality check: this internship abroad takes a little grit, both literally and figuratively. It's not easy to leave the kind of life we're used to and move to a place like San Rafael for a few weeks. It's hot, humid, muddy, there are bugs of ALL shapes and sizes, and no running water. No one in the community speaks English, and roosters are literally your alarm clock. Despite all that, the opportunity that the Evergreen Institute provides to immerse yourself in this lifestyle with these wonderful people is an unforgettable life experience. The people I met, the incredible scenery and wildlife I got to see firsthand, the things I learned about myself, and the memories I made far outweigh these few gritty parts I've mentioned. Not to mention, my Spanish has never been better after 3 weeks in the Amazon than it had been from 3 years of university education. In summary, whether you have a degree in biology or not, speak Spanish or not, have ever considered living in the Amazon rainforest before or not, the experience that the Evergreen Institute provides is a once-in-a-lifetime opportunity that anyone can benefit from. Just be sure to pack some strong bug repellent, and say hi to Tomate for me when you go ;)
Caught your attention?… What are you waiting for? With the help of ALBA Study Abroad you too can join the Evergreen Institute for this internship abroad in the Amazon Jungle.