By Zach Spence – ALBA Student Winter 2023
Are you ready to explore Barcelona's vibrant and colorful markets, where you can immerse yourself in Catalan culture and indulge in some of the world's best food? Look no further! From the bustling stalls in La Boqueria to the bargaining in Los Encantes, Barcelona's Markets have something to offer everyone. In this blog post, I will tell you about my favorite three markets in Barcelona and what makes them unique.
1. Mercado de La Boqueria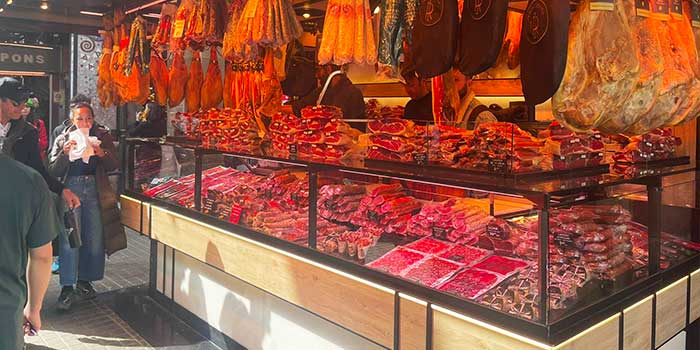 Located on the La Rambla in the Heart of Barcelona and a 9-minute walk away from ALBA, La Boqueria is one of the most famous markets in the world, but I had no idea that it existed until I went and visited it with my Spanish class and teacher, Luis.
The market has been in Barcelona since the 13th century and is rich in culture. It is Catalonia's biggest market and it is filled with a variety of options. Spain is known for its Jamón Ibérico, and at La Boqueria, you will surely get a good cut for a reasonable price. Thirsty? When you enter and see the fresh juices, ask about the flavors because chances are there will be something you've never tried before! There are various juice flavors, including orange, lime, and kiwi. When I went, I tried a freshly squeezed coconut juice that was so sweet for only € 2.50! It is a great way to cool down while in the Barcelona heat.
La Boqueria dates back to 1217, and it has grown into the vibrant and cultural market it is today. The atmosphere at La Boqueria is as authentic as it gets. Although filled with tourists worldwide, the market continues to represent Catalan culture. The Catalan culinary options are only available at markets with fresh seafood, jamón, and more sourced locally. When you buy from La Boqueria, you not only get the opportunity to see the unique offerings, but you can also support the community. The mix of people and products truly represents Barcelona as a rich cultural city. Visiting La Boqueria is a must while you are in Barcelona.
Tip: I recommend going to the market early to avoid crowds.
Goal: Go to La Boqueria and try a unique flavor of juice!
2. Mercat de Santa Caterina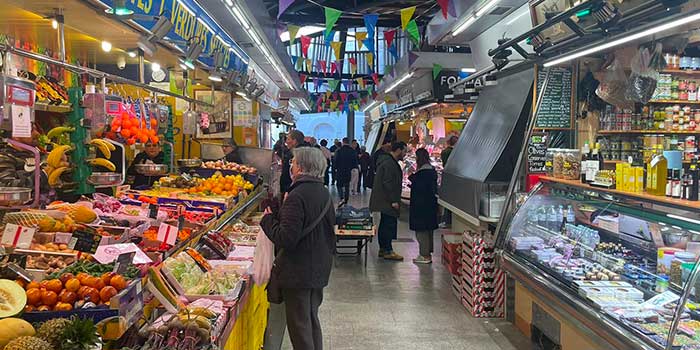 The Mercat de Santa Caterina is a prominent local gathering spot in one of my favorite areas in Barcelona, the Born Neighborhood.
The market is a great place to try some quality local specialties. Some offerings include cured meats, vegetables, spices, and artisan cheeses. My favorite is the fresh ravioli at the cheese stall. The products at the Mercat are of higher quality and cheaper than what you will find at a grocery store. The market is less crowded than La Boqueria, and it is a great place to practice your Spanish with some locals.
If you are trying to practice some Spanish and taste some high-quality food, say, "Puedo probar un pedazo de eso" which means can I try a piece of that! The locals love talking to new people and are open to practicing Spanish with you. I have gone two or three times to practice my Spanish, and it was a great experience. I chatted with a man at a vegetable stand who told me it was the orange season in Spain since it was winter. The Mercat is a great place to meet new people.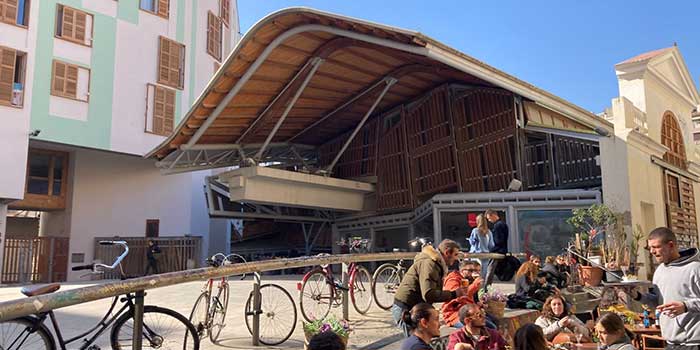 After visiting the Mercat, I like to sit at one of the cafes in the plaza behind the market for a glass of vermouth or a coffee on a sunny afternoon. This is a great way to destress and enjoy the beautiful weather and drinks that Barcelona has to offer. The Born Neighborhood is also a great place to wander around, with many local shops and restaurants that will keep you busy!
Fun fact: "Mercat" means market in Catalan. In fact, most of the streets and signs in Barcelona are in Catalan, which is what locals speak in Barcelona.
Goal: Go challenge yourself and practice your Spanish at the Mercat. Don't be afraid to make mistakes! If you struggle, they speak English as well so don't worry.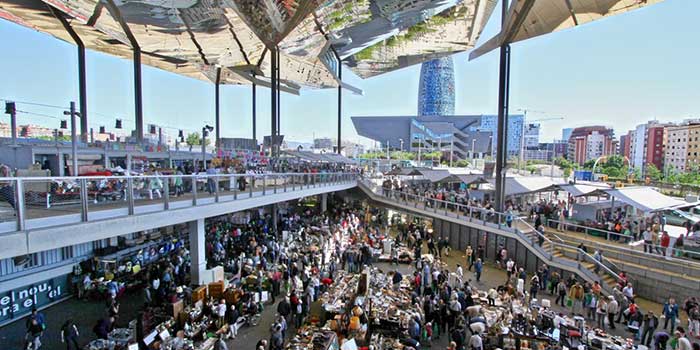 Los Encantes de Barcelona is a flea market in the Sant Martí district in Barcelona. This market has hundreds of vendors selling electronics, second-hand clothing, books, etc. It is open Mondays, Wednesdays, Fridays, and Saturdays from 9 a.m. to 8 p.m. The market has existed since the 14th century, and it continues to provide the community with a unique gathering place to trade and bargain goods.
Los Encantes is committed to economic sustainability since most of the items sold are second-hand. It also has a recycling program that ensures items are correctly disposed of. In addition, the market has undergone significant renovations to keep its history and remain stylistic and new. The addition of the mirrored roof in 2013 blends the modern styles of Barcelona while preserving the distinctive style of the flea market.
Going to this flea market is a must if you want to experience a unique shopping experience in Barcelona. The city is filled with massive shopping complexes, but the Los Encantes de Barcelona is where you can shop like a local and get some deals. Shopping like a local means bargaining and interacting with the vendors that will keep you entertained and experiencing the different sectors of the markets that are indeed only home to Barcelona. If you need the comfort of your home, this is where you pick up some old posters or decorations to spruce up your ALBA apartment. With the market's wide range of merchandise, you are sure to find something unique.