by Aidan Grambihler
👋 Hey hey hey all you current ALBA students, prospective ALBA students, and vicarious adventurers! Aidan here again, and I'm excited to share the second edition of my study abroad photo diary 📔, the Midterm Edition! Inspired by the international success of my Week 1 Photo Diary (AKA my family read it and they are in the States 😛), I have decided to pick up where I left off and share more of my ALBA study abroad adventures with you all. This time, I will be sharing about my study abroad adventures from Weeks 2 to 5 🗓️! While I have become increasingly familiar with Barcelona over these past four weeks, the magic of this city has not waned one bit 🪄. Barcelona is truly one of a kind.
In this Midterm Edition, I'm excited to show you more of what my study abroad experience has looked like. Classes are officially in full swing, so I've had to start balancing my personal adventures with academic life ✏️. No complaints here, though; my classes, "New Technologies: Smart Cities" and "International Business," are super fascinating and highly applicable to the real-world, which I love. And, beyond that, my Marketing & Social Internship has inspired me to get out a bunch and take lots and lots of pretty pictures 📷. I will be thoroughly impressed if my phone storage isn't maxed out by the end of my study abroad.
Without further ado, I am excited to share my latest study abroad adventures with you. I will, of course, spare some of the more personal details because, after all, it is my diary mwahaha 😜. This time around, I will be sharing my day-of diary entries from Week 2 followed by my reflections on Weeks 3 through 5. But you know what, it's totally alright that I fell off my diary for a few weeks because sometimes we are just so in the moment and it's all part of the journey ❤️. OK, are you ready for some all-over-the-place stories, pretty pictures, and the reveal of one of my top three restaurants of all time 🥉? Let's dive in! 
Week 2: The One With Aidan Almost Getting Arrested 😱
Alright, so I did end up doing homework on Wednesday. And then I had enough time left in my day to go on one of the impromptu staff-led outings. We walked down La Rambla and ended up back at this rooftop hotel bar I had been to the week before. I tried cava* for the first time! Una copa de cava 🥂. Yummyyyyy. I mixed and mingled with a lot of people in the program and realized that I talk with sorority girls really well. And I like chatting with them every now and then because I feel like Amy Poehler in Mean Girls when she's like 'you girls keep me young, I love you so much.'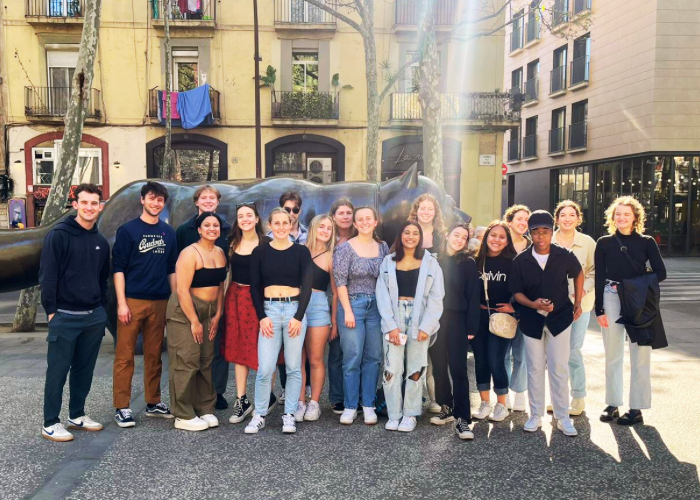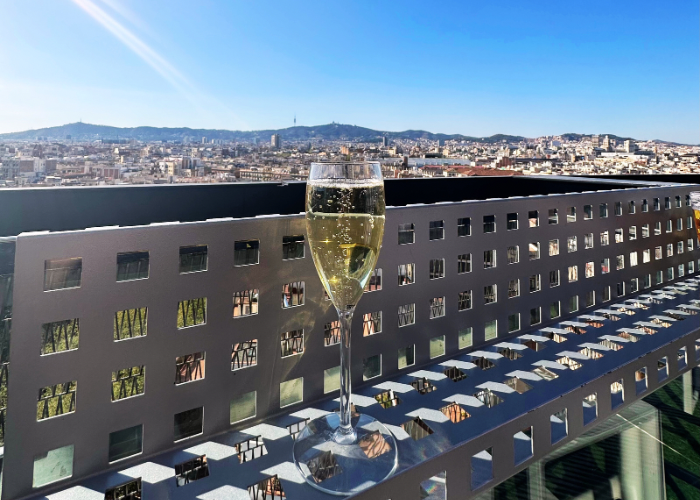 *Cava is a sparkling wine made in Spain. It's a must-try when you're here!
Then Max and I split off from the group and got dinner at a highly rated Catalonian restaurant because I was like ahhh we need to go back to trying local foods because we haven't done tapas in a while. It was kismet because they usually require reservations but we finessed two bar seats. And so we ordered some yummy things – fried artichokes, meatballs + mushrooms 🍄 (I'm slowly starting to tolerate mushrooms), and ham croquettes which were so good ahhhhhh. 
My hair had gotten too long, so that night I decided to trek to one of the only barber shops 💈 still open. Only had my card on me but was fine because I checked online and it said that BCN barber shops accept credit card 💳. I looked up how to say high fade in Spanish, and the barber went to town and it was only €7 but lasted like thirty minutes which is just so much better than back home. When it came time to pay, the guy was like 'we don't take card, only cash,' and so my heart skipped a beat because I didn't have any cash on me 😱. And so I was like ahhhhhh what do I dooooo. And so he walked me to the nearest ATM two blocks away and hovered over me as I tried to extract cash. And so I was like OK deep breaths deep breaths it'll be OK. Wasn't ideal at all because my credit card charges a big ATM fee, but this was now a life or death situation lol and ugh I didn't have my debit on me. This was a brand new card and I had never tried using the ATM with it. So I entered what I assumed the PIN to be but I got declined, and then reentered it and got declined and then tried a different PIN and got declined and this guy is staring me down like b*tch better have my money 😡! He walked me back into the barber shop, explained the situation to his coworkers and one coworker was like you should go to one of the nearby convenience stores and ask for cash back, but do it fast because we're about to close. So thankfully I was able to do that by myself without anyone hovering over me. But then when I went to buy a few items and get cash back like the worker said I could do, my card got declined! AKA I had entered the wrong PIN on the ATM too many times, so my card wouldn't work anymore. So then I had a full-on panic attack 😰 trying to call my bank 📞 and when the girl answered the phone and I could barely understand her she was like 'OK let me ask you some security questions.' And I'm sure I answered everything correctly but then she was like 'one of the pieces of info you provided doesn't match our records so I'm gonna have to transfer you to member services.' So I decided to deal with that later. At this point I knew the barber shop was gonna close soon. It was a fifteen minute walk to my place, so I halved that time by speed walking + running 🏃 to and from my place to grab cash. And so I was freaking outtttttttt and thought the police were gonna launch an investigation and that I'd never be able to make it back home alive and that I was gonna die. Thankfully my barber was still outside when I returned, smoking a cigarette outside 🚬. I gave him my €50 bill because I was like I do not want this barber shop on my chest anymore. Ahhhh that was scaryyyyy and I thought my life was over. Good haircut though 😂!
My first week of classes was easy easy because I only had one of my two classes actually meeting. So I started using the TooGoodToGo app and got my first surprise bag at an organic grocery store south of La Rambla. And then I wanted to do some more walking around that area so I protected my €4 bag of fruits and veggies 🥕 like it was my baby. And I stumbled upon Mercat de Sant Antoni, a cool indoor market with produce stands and clothing stands 👕.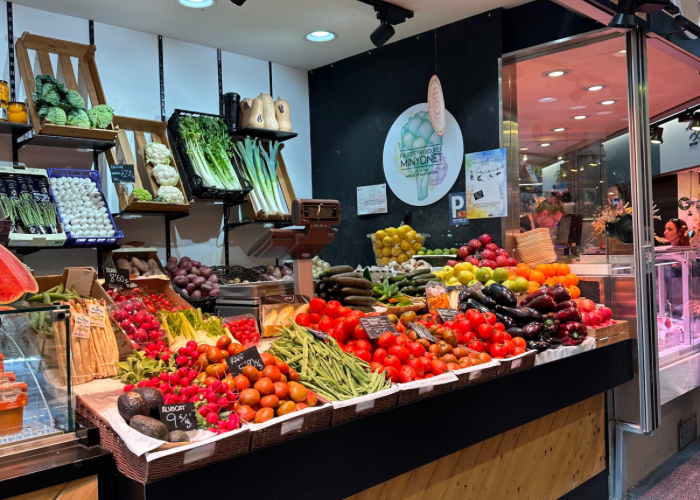 Oh my goodness gracious, this next day was such a big day! So after I walked around a bunch with my bag of produce I dropped it back at my place and then went out on another long pretty walk. This time I started in Eixample and just kept walking south south south. I found the Arenas de Barcelona shopping mall that looks like a sports stadium from the outside (it used to be a bull fighting arena!) and then has a really pretty 360 degree view of the city from the top. And from up there I saw that I was right by the Olympic Village area, which was conveniently one of the big items on my list of places to see. I walked virtually every inch of the Olympic Village, and this picture below was probably the most special spot to me. It was the backside of the stadium which I'm pretty sure is the stadium where they hold big concerts 🎤. And so that felt really special because I was by such a landmark spot but not a single other soul was in sight. And I think that's one of the most special feelings in the world to me, when I'm the only person in the world at a beautiful spot at a certain time. I had that feeling this past summer when I walked around UCLA in the middle of the night. After walking around this building I also saw the Museu Nacional d'Art de Catalunya – so prettyyyyyy from the outside.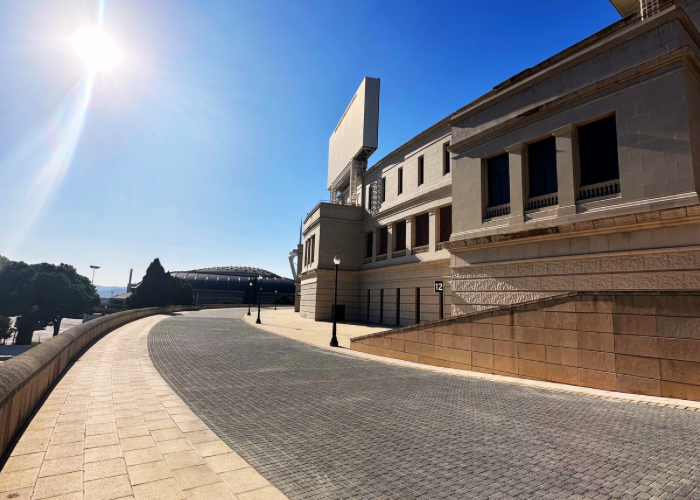 Walked back to my apartment, rested my feeties, and then walked over to a nearby tapas bar to pick up my next TooGoodToGo order. The place let me try any five pintxos 🥖 of my choice.*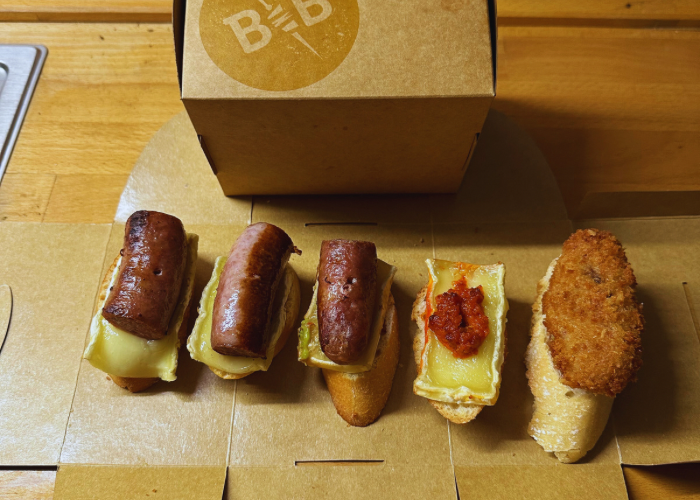 *Try out your first Too Good To Go surprise bag and you just may be pleasantly… surprised. 
Friday I had to be up bright and early for the first out-of-town excursion included in the program. Forty-seven of us students went to Tibidabo mountain where there are two beautiful churches ⛪️ and an amusement park 🎡. We went on a very scenic and windy shuttle bus ride to the top of the hill, checked out the churches, and hiked around the mountain 🏔️. I took lots of footage.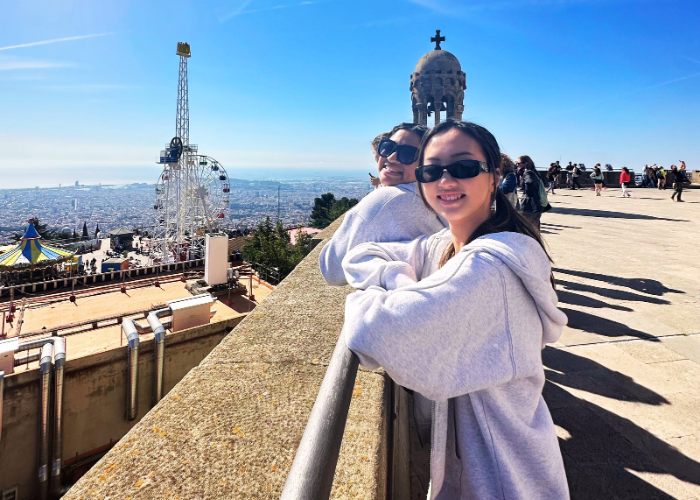 I was on the lookout for wild boars 🐗 because apparently the hike we were on is where Shakira got attacked by one of them. Below is a picture I took of some of the people in the program during our hike. I actually met up with all of them at the club Razzmatazz later that night along with several others. Such a sweet group of people 🥰.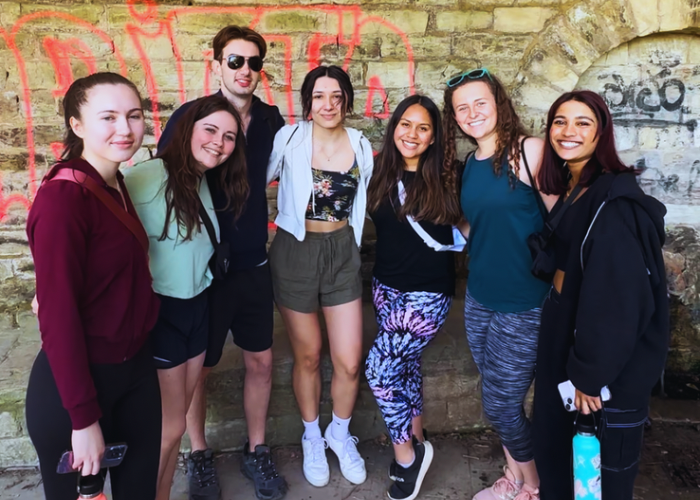 After we got back from the tiring hike I took a fat nap 😴 at my place and then got ready to go out to Razzmatazz. First I stopped at the Axel Hotel Sky Bar because it was a Friday night at midnight-ish 🕛, so I was finally there at a good time – I kept being in that neighborhood midday when the Sky Bar wasn't open. I once again ordered una copa de cava because it's so fun to say!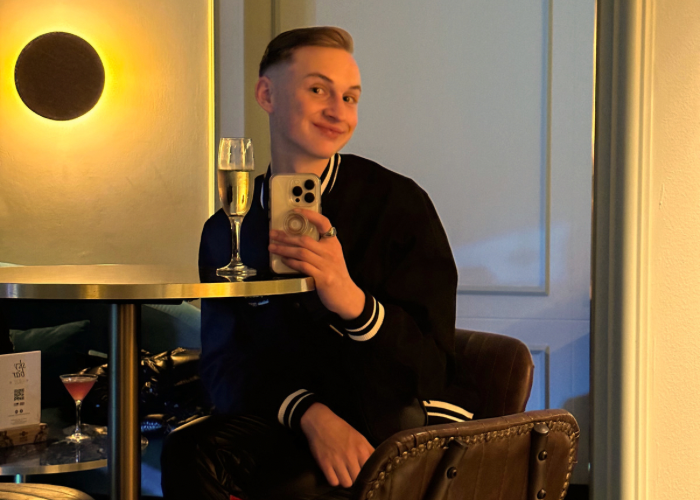 Kind of miraculous that I found the group so quickly at Razzmatazz because there are so many people and there are three floors. I joined the group dance circle ⭕️. And I swear that this one Spanish boy beside me lightly threw/spat a seed or something at my neck because I felt something like that and then when I turned around he started speaking to me in dance language 🪩. And so we danced together for a hot sec and so that was so fun because I'd only been in the room where Max and the others were for all of sixty seconds before this happened. So it was a really fun night and it was just good vibes 👌 and dancing. Later on, the big group of us headed out of the club and parted ways and luckily I still had my wits about me.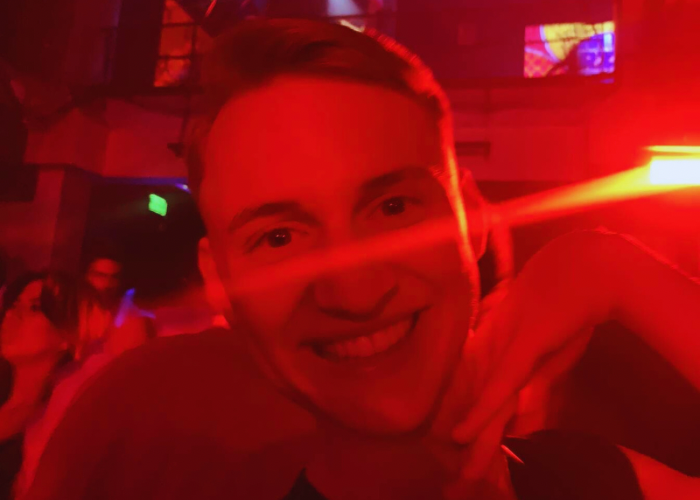 Sunday was Easter and I had booked tickets 🎟️ to Parc Guell. Ended up being such a pretty day to go. Such a pretty site. It was p-p-p-p-packed with people, but the trick was to find someone who had a good spot, offer to take their photo, and then see if they'll take a photo of you in that same spot 🧠.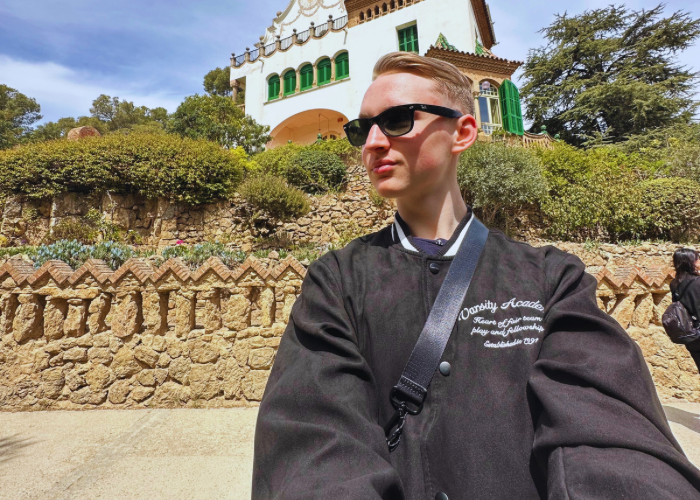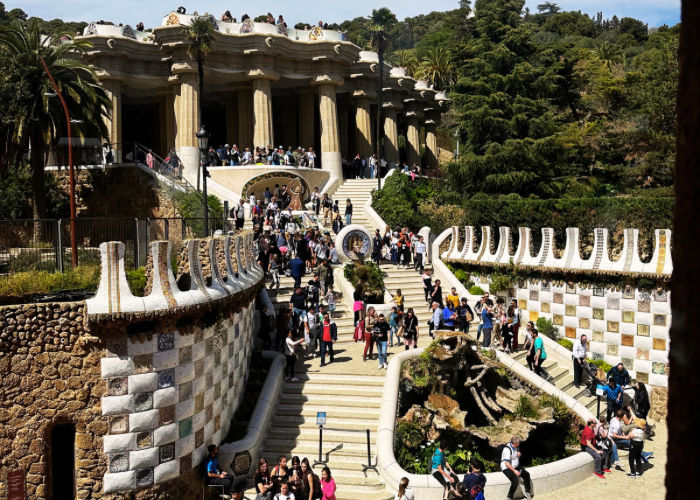 Went back out to Razzmatazz for the "La Lèche" party 🥛, a big once-a-year queer party in Barcelona. OK so I got there, gave my shirt and jacket to coat check, then made my way into the crowd. The music was so good! They did a Burlesque song and also a bunch of poppy stuff 🎵!!! Razzmatazz with the ALBA group was more fun, but the music at this event was just mwah, chef's kiss. They played absolute bops and it was a really good show.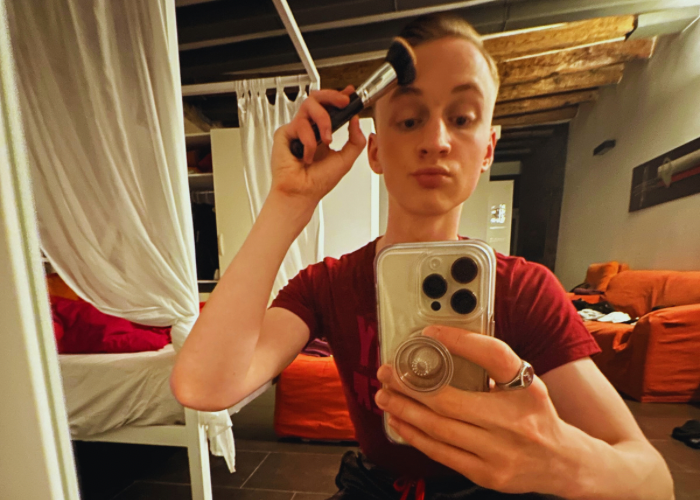 Next day was La Sagrada Familia day! So unbelievably breathtaking 🤩. After I listened to the audio tour on my AirPods I blasted church music in my ears to tune out the touristy noises and just looked around in amazement at everything. I loved learning how Gaudí was inspired by nature and thus constructed the pillars inside to look like trees 🌳, which in turn is very practical because the way they branch out at the top provides internal support for the basilica.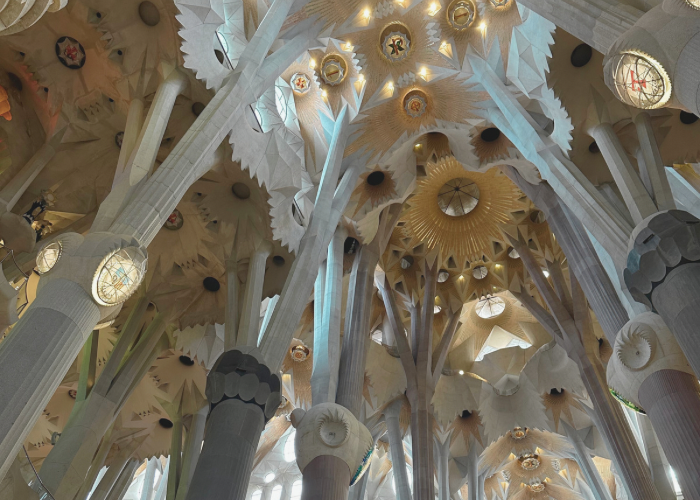 Weeks 3, 4, & 5: The Ones With Aidan No Longer Staying On Top of His Diary 📔
Alright, alright – from here on out I'm gonna go rogue mwahahahaha 😈. Delayed diary entries certainly have their own merits, though. Even though they can't capture details on such a specific level, they can reveal the most memorable highlights. Let's go!
Beach Day! Before I came to Barcelona I was tipped off about Sitges being a must-see spot. It's a really cute beach town 🏝️ just thirty minutes or so south of Barcelona by train. Like the rainbow bench shows, it's supes gay-friendly 🏳️‍🌈. Wednesday was unfortunately the day lots of stores were closed, but the beautiful sandy beach was enough to make the trip worthwhile. It's toward the top of my list of places to return to, so long as I can find time for it.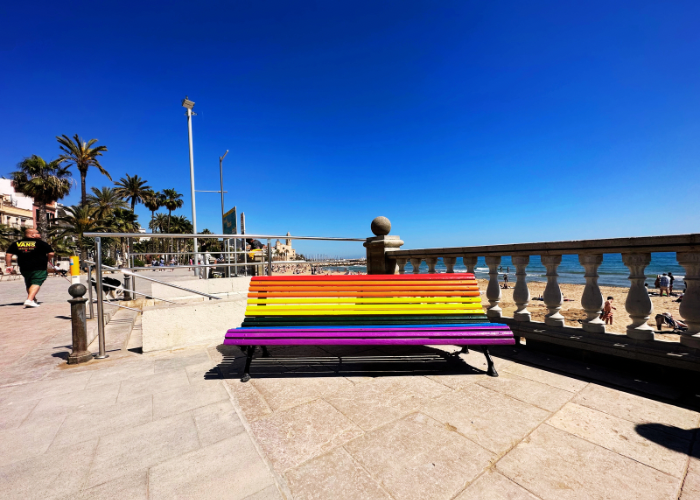 That same day, I hopped the train back to Barcelona and attended my first ALBA cooking class 🥘 at the Study Center. We made pan con tomate, tortilla de patata, vegetables with romesco sauce, and carquiñoles with Moscatel. I was a little late (that day my body was running on slow, relaxed beach time), but I still had a good time seeing the making of the final product and helping out here and there. Not to mention tasting it… it was so yummy 🤤!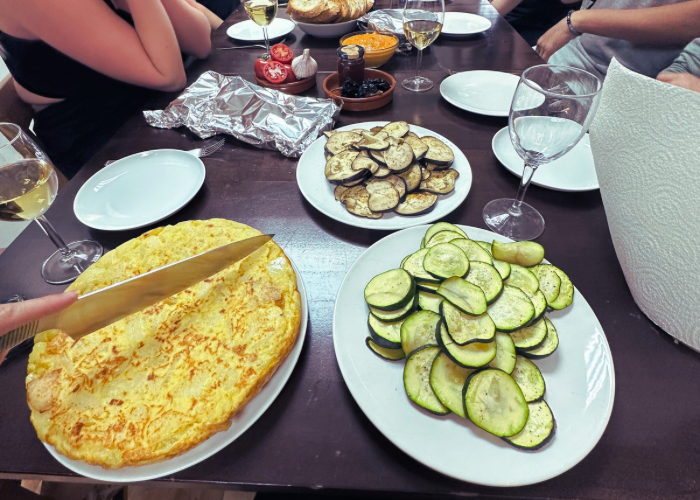 Then, if my day couldn't get any busier, I went on an ALBA group excursion to Gràcia, where the student services coordinator Marcela* taught us about the local history and brought us to a local bar. Check out our 5 Excursions post on Instagram to see vids from the Gràcia tour along with other excursions.
*Learn more about Marcela Hurtado, ALBA's smiley 😊, friendly Student Services Coordinator.
We Interrupt the Program to Bring You This Important Announcement 📣:
Now a little side note to talk about the "study" aspect of study abroad because I don't want to misrepresent my time in the ALBA program as just being about traveling abroad. By nature of my class schedule, I would characterize my time in the ALBA program so far as being 10% study, 90% adventures abroad 🙌. There are a couple reasons for that, and I should preface this section by saying that I can only speak for myself and my schedule. Personally, I love my ALBA schedule. I am only taking two classes and only have class two days a week – Tuesdays ✔️ and Thursdays ✔️. Quite a few of my friends in the program only have class two or three days a week, and they are enrolled in three classes (the typical number).
Here's why I am only taking two classes… leading up to the ALBA program, I knew that I wanted to have a lighter course schedule when in Barcelona so that I could maximize the amount of time I had to explore the city. I also knew that the Marketing & Social Media Internship would involve a significant time commitment. After all, these blog posts don't write themselves 🤓. To compensate for the two classes I was going to take during my Spring Quarter at ALBA, I took four classes during my Winter Quarter in Seattle. I'm not gonna sugar-coat it… four classes was a lot of work. But it ultimately paid off because it means that I can take two classes here in Spain and still graduate 👨‍🎓 on time. 
Now onto what my coursework, aka 10% of my time, has been like. These past four weeks, homework has started to pick up in my classes, especially with Midterm week upon us. But it has still been really manageable and interesting. For my 8:30am Tuesday/Thursday "International Business" 🌎 class, we have had a few group projects so far. The first one was creating an infographic about an International Organization. My group got the Organization for Economic Cooperation and Development (OECD), which was interesting to research because I hadn't heard of it before. The other project we had was a two-parter that asked us to choose a country and build a PowerPoint report on it. We chose South Africa. The first part tasked us to research the country's political, economic, and legal systems, collecting details that would be useful to foreign companies. For the second part, we researched the country's culture and the keys to doing business in that country from a cultural perspective. For my 2:30pm Tuesday/Thursday "New Technologies: Smart Cities" 🏙️ class, the workload has been really light. We are currently gearing up for three projects related to the topics of food consumption, telecommunications, and globalization, respectively. The food consumption project is especially fun – we choose thirty foods that are representative of our diet and gather information on them, such as the production location and frequency with which we consume them, to ultimately figure out how sustainable our diets are. 
To wrap up this important announcement about putting the "study" in "study abroad," I will say that ALBA is an experience I wouldn't trade for the world ☺️. It's so amazing that I can spend 90% of my time in Barcelona going on incredible adventures and 10% of my time buckling down and working toward my degree. But even then, the 10% is still supes interesting. In my International Business class, we get to hear lots of anecdotes and real-world examples from our professor that back up the course material. And it's just thirteen of us… not to mention that these are thirteen people I regularly see outside of class when we hang out with each other to chat 💬, grab food, go clubbing, etc. It feels a lot more warm and chummy than my classes back in the States where there are lots of students and people only know each other because they have to work together for a group project. My Smart Cities class is even more intimate – it's just four of us and the professor! The professor has a wealth of knowledge on the topics of technology and globalization, so it is really cool that I can so easily ask him questions that pop into my mind. One day, we took a field trip to a neighborhood in Barcelona called El Poblenou, where we learned about topics like how to combat urban heat islands and the creation of superblocks 🚶.
Shoutout to my International Business professor Adriana Espinet and my Smart Cities professor Francesc Muñoz… I definitely recommend taking their classes 🌟!
Announcement over, back to the regular scheduled programming 📺:
As ALBA student Aakanksha Deb correctly asserted in an Instagram comment for the Costa Brava excursion post, "EXCURSION GROUP B SUPREMACY." Allow me to provide some more context. While the first out-of-town excursion included just about everyone in the program, Week 3 marked the first week of mini-group excursions. My group, Group B, went to Costa Brava, Spain's hidden gem. Highlights of my day were bonding with our tour guide over the Despicable Me franchise, the great chemistry of our group (hence "Group B supremacy") 🔥, and our walk along the beach. There, we met a local who gave us each a piece of paper 📝 to write down our wishes for the year. Then we hung up our wishes on clothespins, next to hundreds of other wishes he had collected from travelers.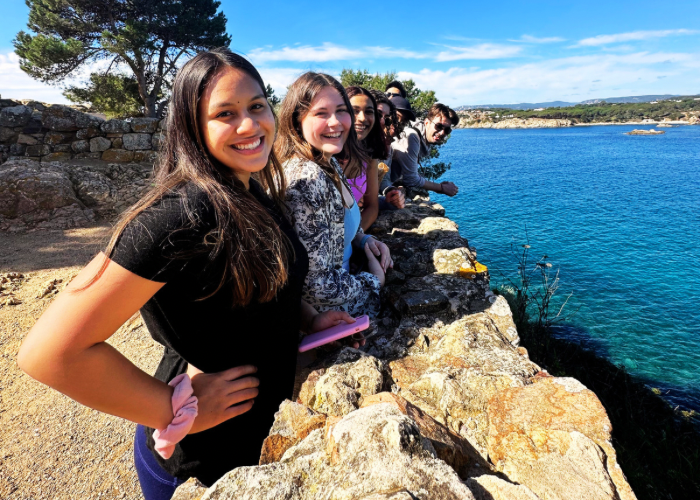 I got up bright and early the next day to take a train an hour-and-a-half south to the happiest place on Earth… Port Aventura 😍. Port Aventura is a magical amusement park with really strong roller coasters 🎢 and also really cute rides like their award-winning Sesame Street one where you try to collect as many cookies 🍪 as you can with your laser gun. Unfortunately I went on a windy day, so a lot of the roller coasters shut down. It ended up being totes OK though, because I already knew that I wanted to go back there at least one other day. I saw the most impressive show of my entire life that day at the park's auditorium. It was a musical called Divas, and it was a compilation of music by famous Spanish and American divas, lip synced by live performers. Mixed with Cirque du Soleil 🎪. So I saw some of the craziest stunts ever, oh my goodness. It's too hard to show pictures on here that capture the show's impressiveness… you gotta just see it for yourself 😋. Below is a picture of Angkor, one of the worlds within the park. The other worlds are SésamoAventura, Polynesia, China, Far West, Mediterrània, and México – and those are all part of just one of the four parks!!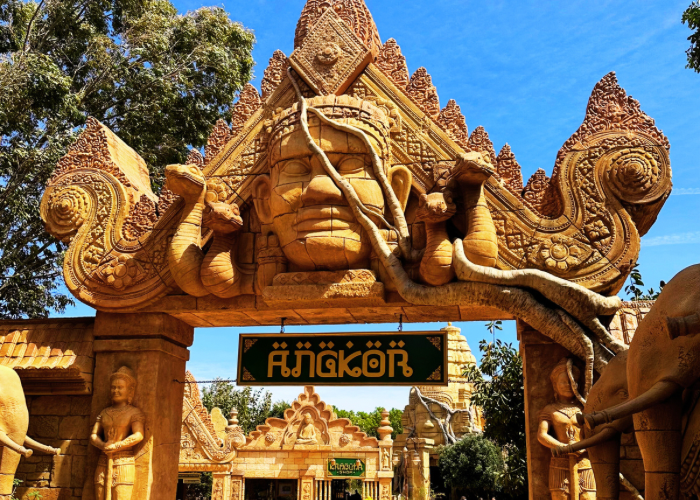 That night, I saw a drag show 🦄 in Tarragona, which was definitely one of my top top top highlights of the trip. I loved how friendly 😊 the people at the queer club were and how it had such a local feel to it. I didn't want to ruin that by being the only tourist there, but even when locals started talking to me in Spanish and I introduced myself as an American they were so warm and welcoming. That's been a common thread for me here in Spain. 
To keep the queer nightlife tradition alive, during my next evening back in Barcelona I went to the bar Candy Darling 🍬. The interior was so… darling. And the people were so friendly. When I walked in, a group of drag performers were on the stage as part of a panel discussion. One of the performers spoke Spanish while the other two spoke English. A translator sat on the stage to help the performers communicate with each other. I think that speaks to how international and diverse Barcelona is.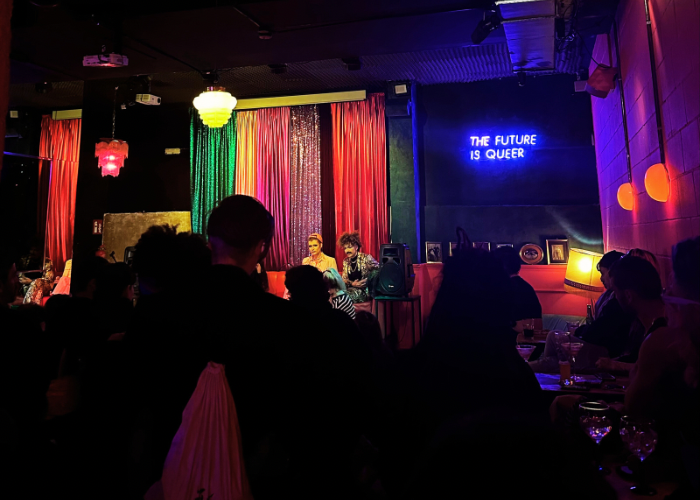 It came time to start figuring out my travel plans. I booked flights to go to Nice 🇫🇷 one weekend, Madrid 🇪🇸 the following weekend, and Nantes 🇫🇷 the following following weekend. The Nantes trip is the one that's getting me in all the feels because drumroll pleaseeeeeee 🥁 ….. I'm reuniting with my French host family that I haven't seen in almost four years ahhhhhhhh. I lived with them for about a month during the summer after 10th grade, but the COVID-19 pandemic got in the way of us seeing each other again sooner. Now that I am living abroad for three months, I finally have the chance to visit them again. I can't wait!
That night, I met up with others in the program for a free study abroad/Erasmus students mix-and-mingle night. Nothing speaks to us study abroad students quite like free food 🤑. Barcelona having such a vibrant nightlife scene, there were two clubs nextdoor that we checked out later.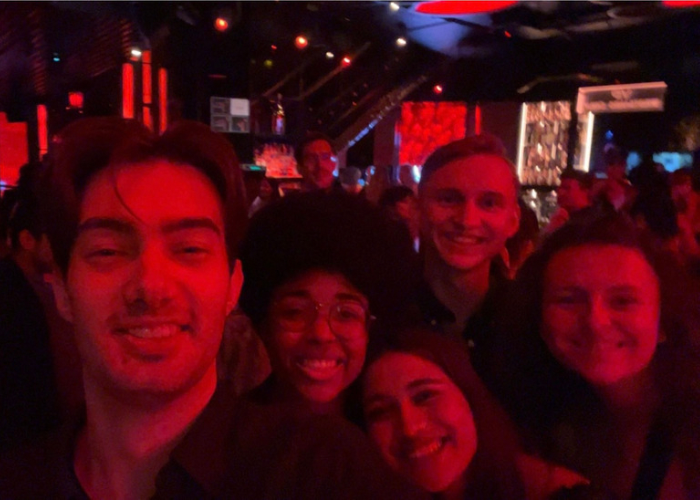 Ahhhhh a couple days later I went to Nice!! My trip to Nice was a wonderful time. Was my hostel gross and rated too highly online? Yes. But when I wasn't sleeping I was walking walking walking. The first two pictures below are from Nice, and the third one is from Monaco. I arrived in Nice on a Friday morning and flew out on a Monday night, so I basically had three-and-a-half days to explore. In total I explored eight towns along the Côte d'Azur 🌊 : Nice, Monaco, Èze, Beaulieu-sur-Mer, Villefranche-sur-Mer, Cagnes-sur-Mer, Antibes, and Cannes. Highlights of my trip were doing a guided tour of Nice, walking inside the Casino de Monte-Carlo, visiting the Exotic Garden of Èze on the top of a hill overlooking the water, and seeing the Pablo Picasso museum in Antibes. Oh, and practicing my French 🗣️, hopping on the trampolines that are built into the ground at a few playgrounds, and trying McDonald's in Monaco because I was hungry and didn't feel like eating a Birkin bag for lunch.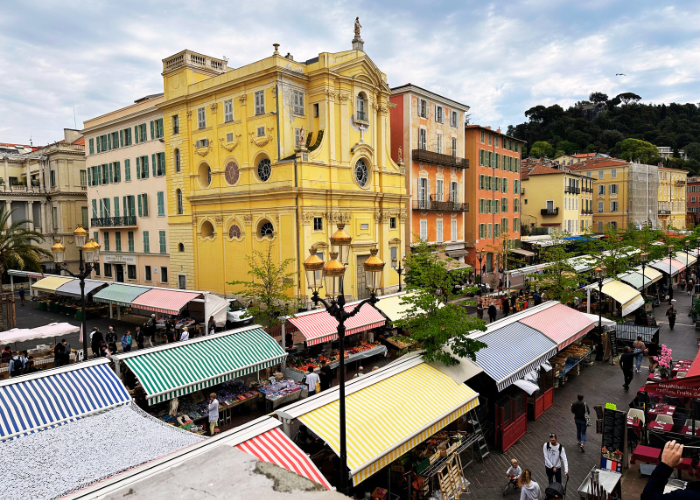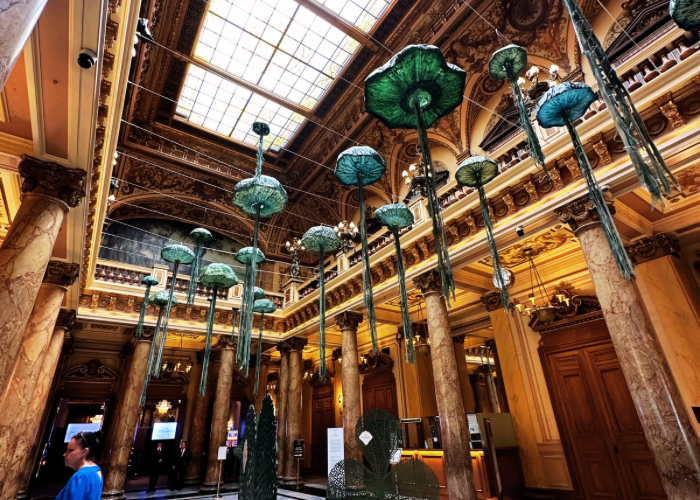 OK OK OK here we go…. time to present one of my top three favorite meals of all time! A couple days after my return from France I took a day trip to Sant Pol de Mar, a town about an hour north of Barcelona 🚊. Under its list of suggested day trips, the ALBA Experience Booklet described the town like so: "Get away from the city noise to this small fisherman's village. With some of the best beaches in the Maresme area, great restaurants, and overall good vibes. This not-so-touristy destination is a great opportunity to sit back and enjoy a small-town lifestyle." The town was certainly really chill. I ate at Bar-Restaurant Can Talamàs and had an absolutely amazing meal for just 15 euros 🥗🍗🍰. Highly highly recommend! It is a local restaurant, so being respectful and learning some Catalan can go a long way.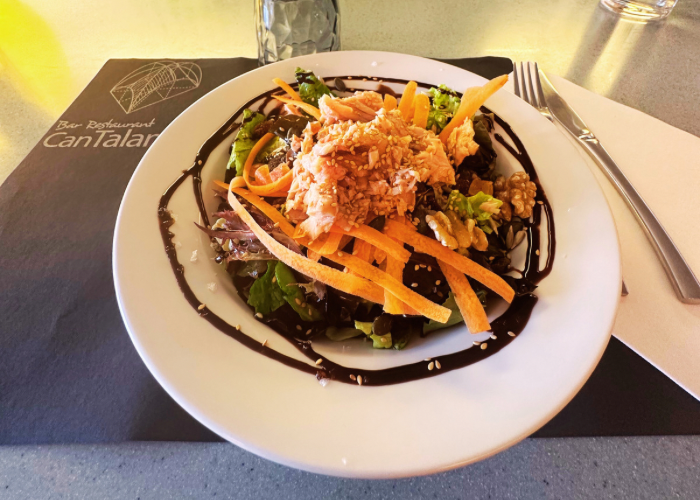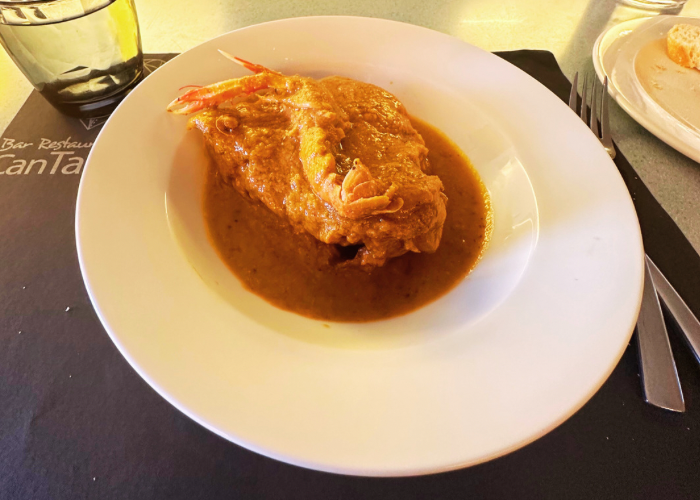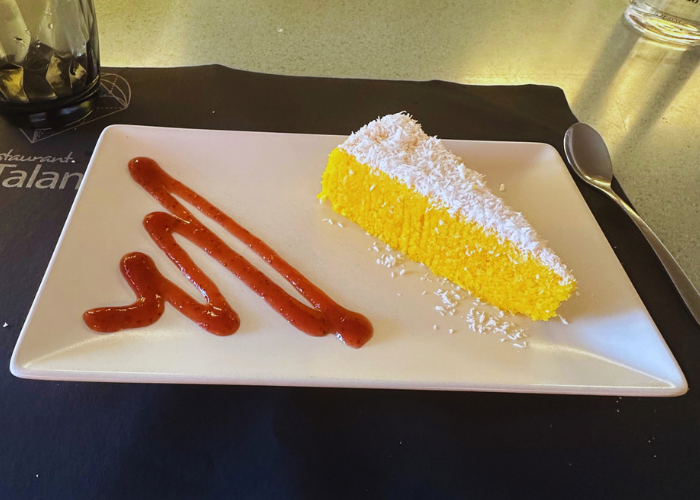 Once again, I took off from my beach day to attend a group cooking class at ALBA. This time we made seafood paella 🥘! I had a good eating day to say the least.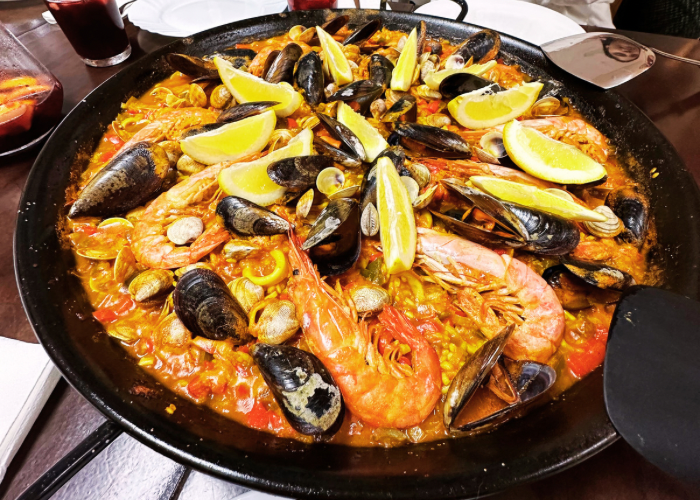 We had our next mini-group excursion, this time to a Catalan village named Rupit. Take a look at our Instagram page to see these excursions come to life! Our Rupit excursion had a special guest, executive director Charles Harris-Inman! I tried three new things that day… drinking wine from a porrón, sitting on a rock 🪨 that hung over a cliff, and eating rabbit!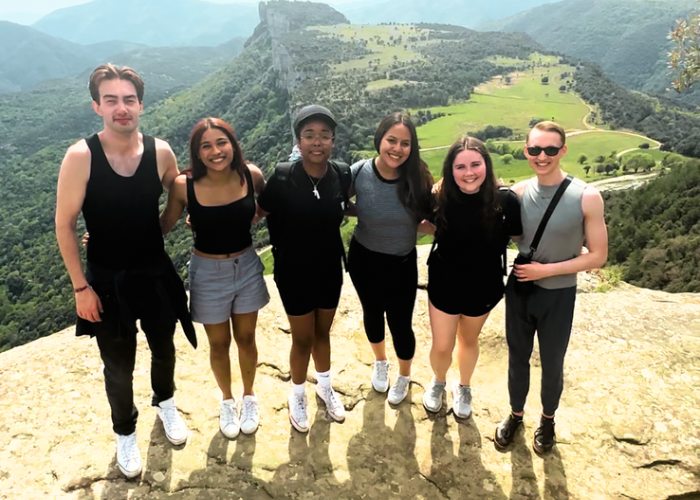 Oh, and then I went to Barcelona's most well-known drag show venue, Believe Club, with five other ALBA students.  We hit up a few iconic spots in Barcelona's Eixample neighborhood, first. We tried rainbow-colored drinks 🌈, admired the gorgeous interior design, and then made our way to Believe Club for their special Aphrodite/Cupid/Dionysus/Hades-themed drag night. Probably the best club music I've heard so far this trip. Everyone seemed to be enjoying themselves and I was so happy that the five other ALBA friends I was with and I got a drag night in, which we had been wanting to do for a while.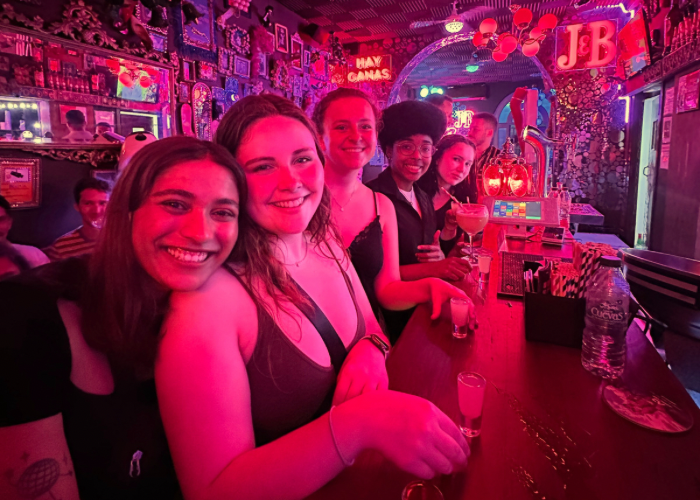 That weekend, I went on a day trip to Tarragona with Max. Tarragona is yet another town recommended in ALBA's Experience Booklet. The town is known for its Roman ruins – a Roman circus, amphitheater, forum, city walls, and promenade. We had a three-course meal at a local restaurant because I am in my student-budget-friendly three-course meal era 🤑.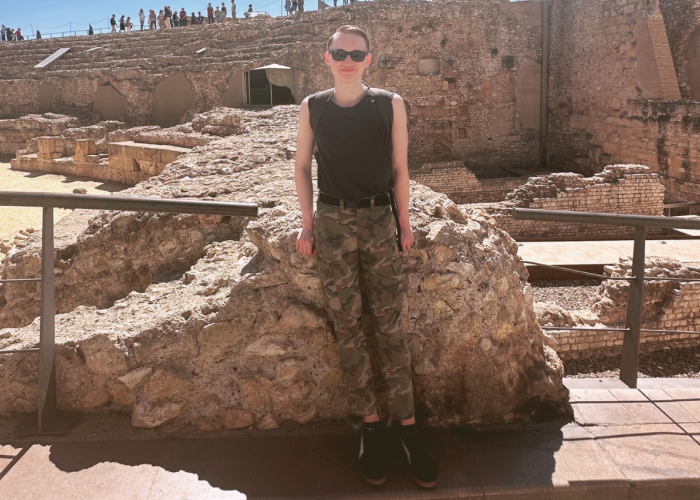 Fun fact: Tarragona is close to Port Aventura, the aforementioned magical amusement park. The happiest place on Earth! So the very next day I popped on over to Port Aventura to knock off ✅ any and all roller coasters I hadn't done my first time. And they were sooooo strongggggggg but I loved every second of them. I screamed so much that I half lost my voice by the end of the day. That was alright, though, because I needed to become a temporary recluse anyway since I had a midterm the next day.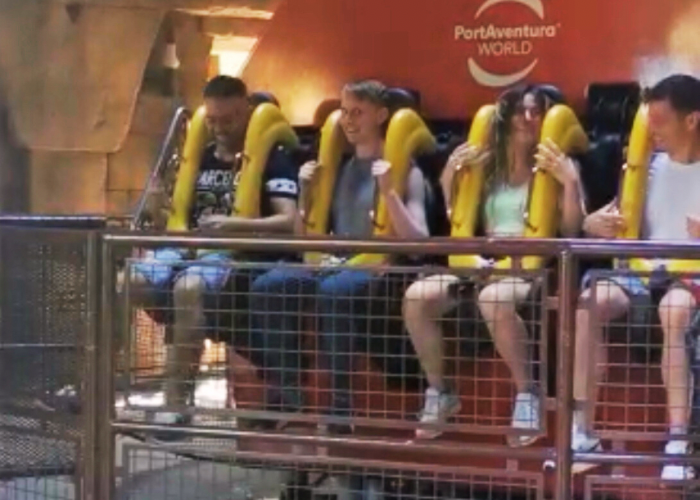 It is officially midterm week, so ALBA students are in study mode. I had my International Business midterm on Tuesday morning, and I have since been chipping away at future projects for my Smart Cities class. Beyond that, I managed to get out on a long walk after my International Business midterm. And I have also started to get ready for my trip to Nantes on Thursday evening by practicing my French. I have been watching a funny French show on Netflix about a family that turns their business into a weed bakery ☘️. Stay tuned for my travels to France and more updates from the quarter!
Dear Reader,
Thank you for making it this far! I have a great time sharing my study abroad stories with you all, so it means a lot that you are interested in my adventures 😇. Admittedly, this blog post was harder to write than the first one because I had to look further back in time. That's unfortunately one of the side effects of doing non-stop go-go-go activities without pause. Would I do anything differently, though? Answer is a bold, confident NO because I like living in the moment. Plus, having regrets isn't productive. Ultimately, composing these posts will help me remember all that I did once I'm back home in Seattle. Perhaps more importantly, I hope these posts inspire you to take full advantage of your time abroad 🧳. After all, growth can only come when we push ourselves outside of our comfort zones. Hope you enjoyed this edition of my study abroad adventures.
Keep thriving and living your best life ❤️,
Aidan