by Aidan Grambihler
🎤 I hopped off the plane at LAX BCN
With a dream and my cardigan ALBA booklet
Welcome to the land of fame excess Catalonia
Am I gonna fit in?
Jumped in the cab, here I am for the first time
Look to my right, and I see the Hollywood sign Plaça de Catalunya
This is all so crazy
Everybody seems so famous beautiful and well-dressed oh my gosh 😍
Oh my goodness, it has officially been one week in Barcelona and so much has happened already! To those of you reading – whether you are a current study abroad student, prospective student, or vicarious adventurer – I am excited to share snippets of my study abroad photo diary with you, to give you a taste of what one week in Barcelona can look like. Come take a look inside my study abroad photo diary and explore the city through my eyes! 📔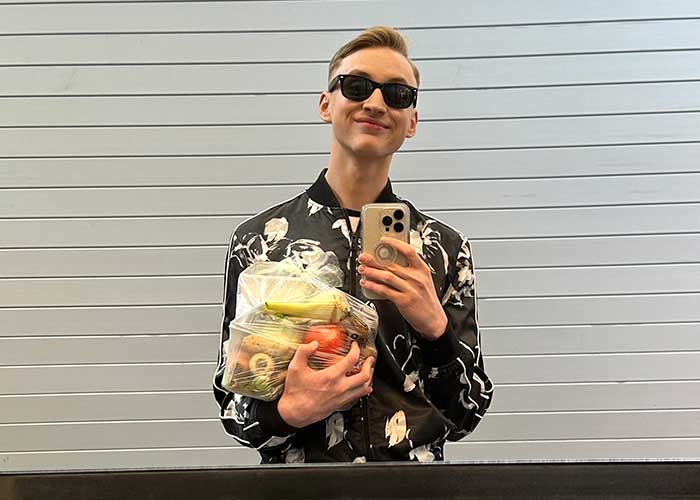 Before we dive in, I would love to give some background on myself. My name is Aidan Grambihler, and I am a University of Washington student in the ALBA program this spring quarter. Since my arrival in Barcelona, I have been keeping a study abroad photo diary to document my adventures. It has been a fun way to share about my travels with friends and family back home while also getting a chance to reflect on my own experiences. Feeling lost in a city this big can be easy, so composing my study abroad photo diary has helped me stay grounded and truly appreciate each and every moment. Barcelona is a city rich with history and culture, so capturing all of its magic is an impossible task. Consider my pictures and writings just a small sample of Barcelona because, as I have come to realize, it would take many lifetimes to become fully acquainted with this city.
Without further ado, I present to you my study abroad photo diary! I will, of course, spare some of the more personal details because, after all, it is mine mwahaha 😜
29/03/2023: Hopping Across the Atlantic!
✈️
Big travel day! My trip is off to a little bit of a rocky start with my 6 hour flight delay from Seattle to London and then my 2 hour delay from London to Barcelona. But you know what, we did it, we took advantage of the travel day to finally watch Heartstopper, and we are now in Barcelona ahhh! David, my AirBNB host*, was so sweet and understanding of all my flight delays. He showed me around the cute apartment unit and gave me tips for exploring the city, so now I'm excited to try out some of the restaurants he recommended. Right now I am chilling in my cozy comfy bed and am proud of my Supermercat haul of fruit juice, snacks, and shampoo/conditioner (because the London airport made me throw away half of my cosmetics ughhh). Oh and I just got McDonald's like an American because it helped ease some of my culture shock haha. They had a Peanut M&M's McFlurry that was sooo good.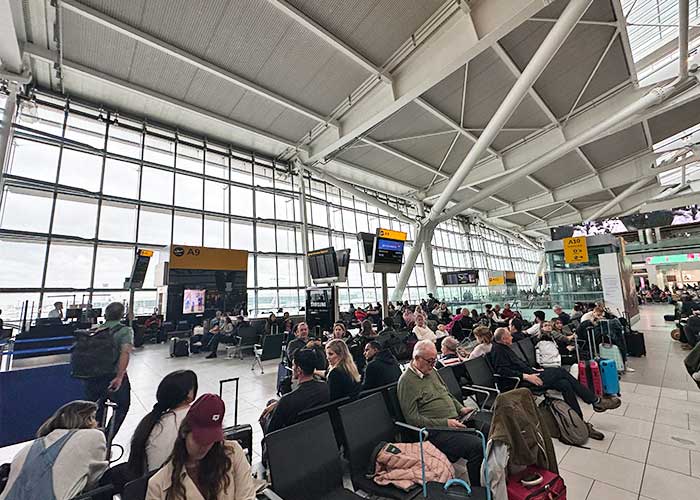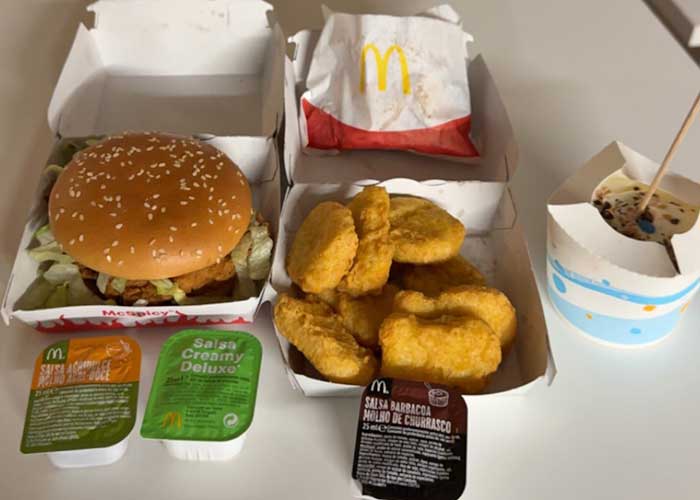 *As ALBA students we have multiple housing options while studying abroad. Personally, I opted for the independent housing option and have been loving it.
30/03/2023: Walking Walking Walking!
😎
My first full day in Barcelona! I was like imma just wander around and see what I see and so I naturally walked into the department store a block away from my place. It is called El Corte Inglés. I went up the escalator, and then up again, and then up again. And was like hmmm I wonder how many floors this place has. And the answer was like 10! And then on the top floor I stumbled upon this cute little place. You take an adorable little shopping cart that can hold three trays and you start loading it up with food… coffee, pastries, paella, burgers, etc etc. I got a café con leche ☕️ and then I ordered cuttlefish because I was like hmm I have never tried that and it ended up being like squid (!) because it is from the squid/octopus family it turns out. And it was actually really good. So I tried a new food that I probably would not have ordered otherwise.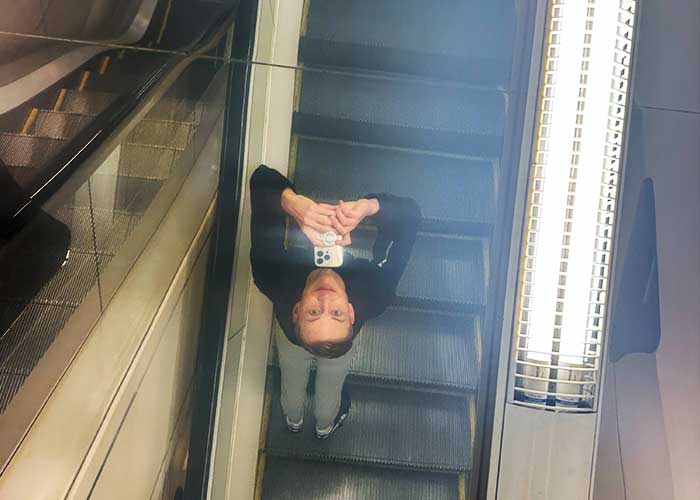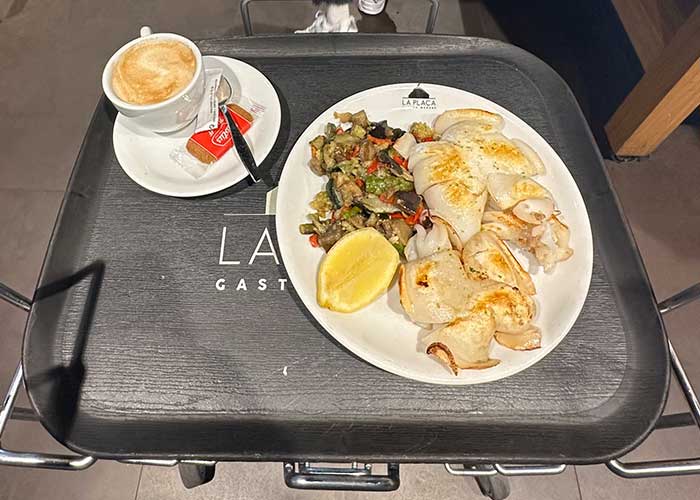 Then I met up with my friend Max and we started walking walking walking. We got in 30K steps on the first day. We saw an interior design museum, malls, the beach 🏝️ called La Barceloneta, the Arc de Triomf, and so much more. The city is so packed with restaurants and shops and it is so overwhelming and thrilling at the same time.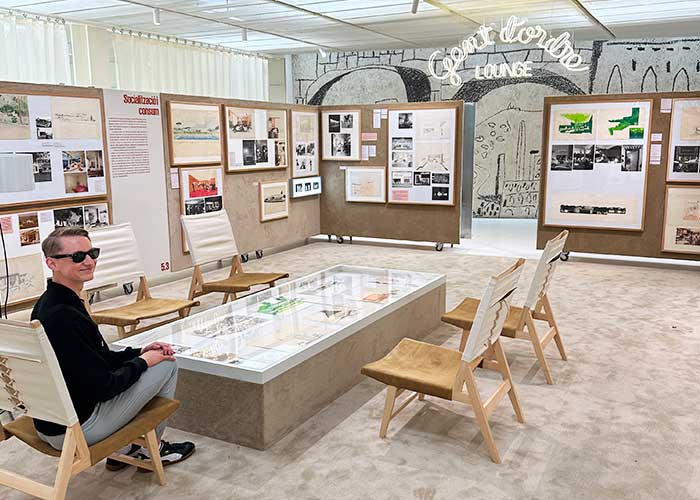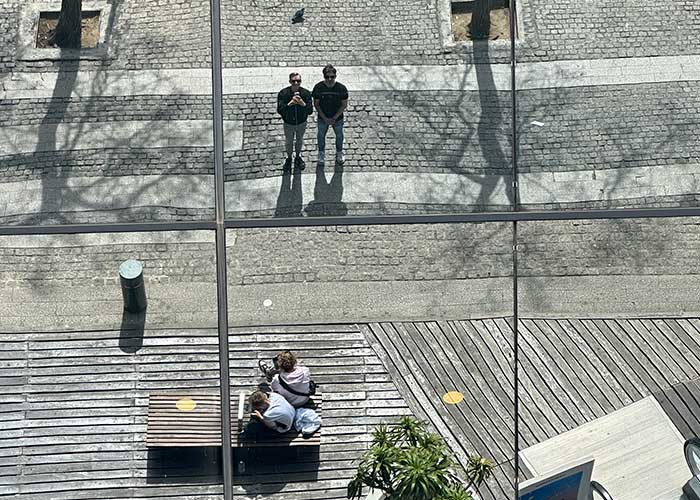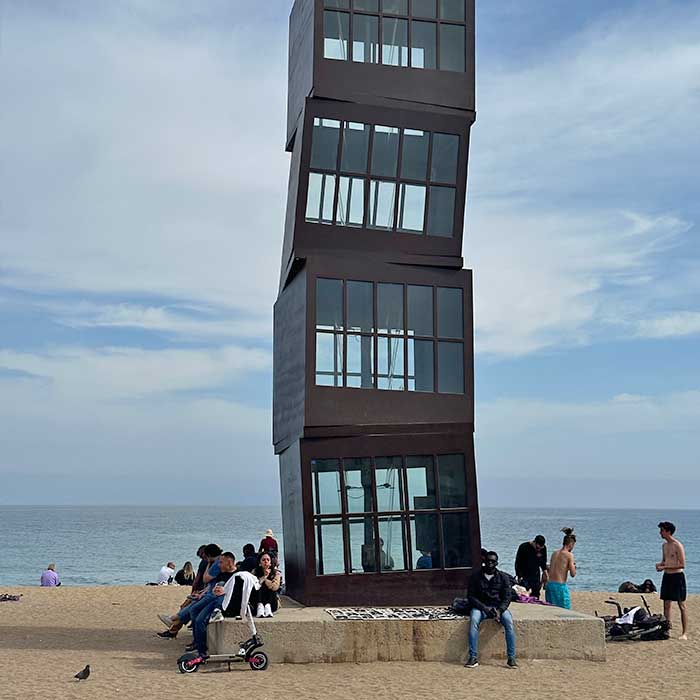 We closed off our day at a Tapas Bar*… we got peppers and montaditos. The one on the left has that yummy Iberian ham, and this was my first time trying it in Spain. I have since been eating so much Iberian ham. Second from the left is escalivada which is a local mixed veggie specialty. We also got lobster paella and churros con chocolate ahhhhhh! I have also been eating so much chocolate 🍫. Gotta head to the gym soon.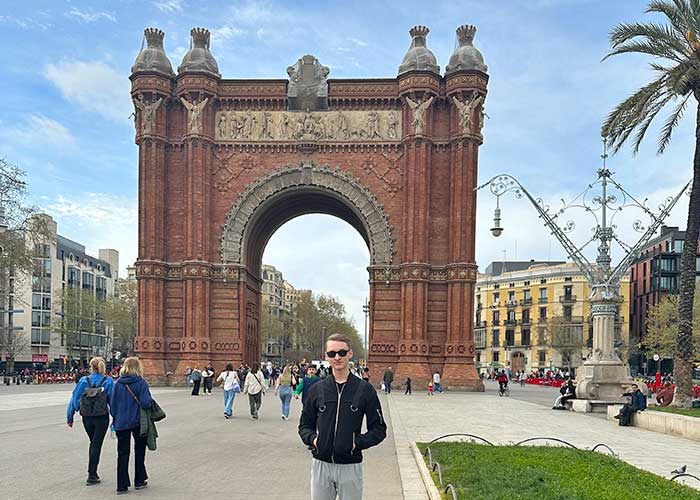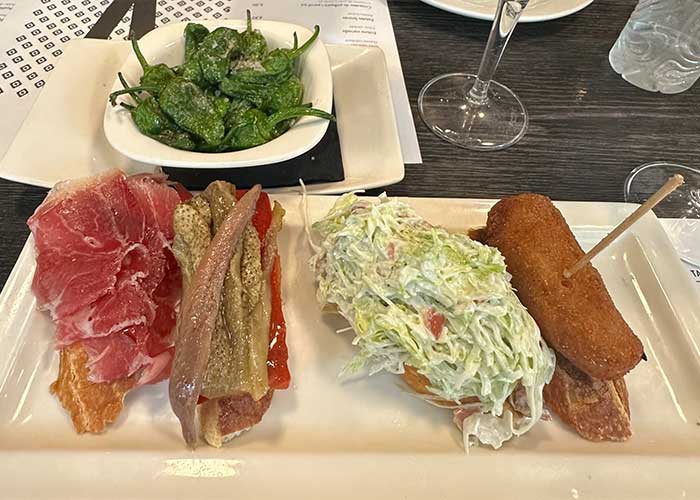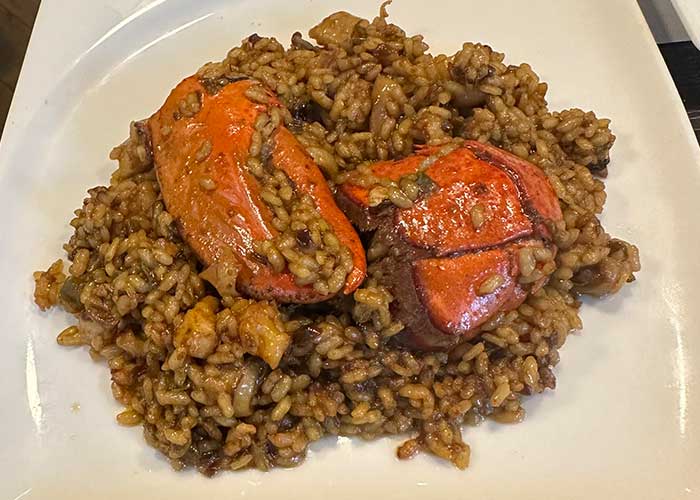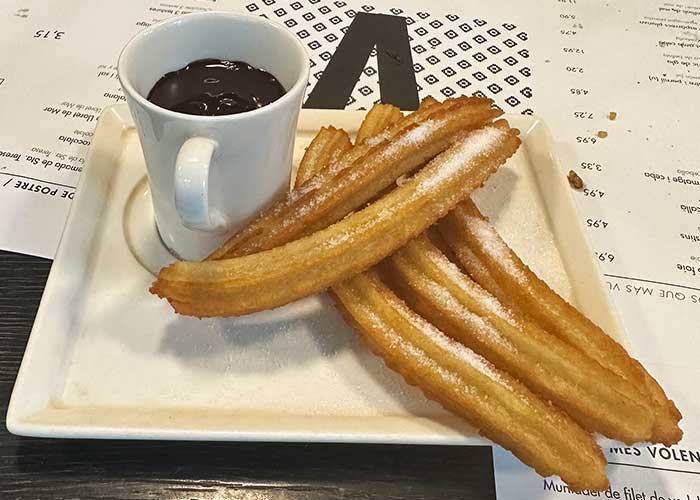 *Interested in trying local cuisine? Check out some of our Barcelona food recommendations.
31/03/2023: The Shampoo Switcheroo!
🧴
Had orientation bright and early. It was held in a building different from the one I am taking classes in, so it was cool to walk around during breaks and see Spanish college students walking around. I reconnected with UW students and met lots of other students – people from UW, SPU, and Cal Poly – throughout the day.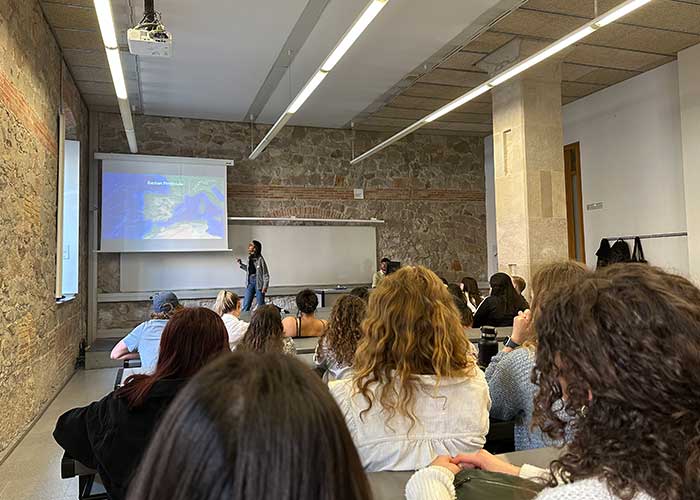 After the formal orientation, I waited for the subway with the sixty other people in the program plus the staff members. Needed a Snapchat filter for my selfies because ahhhhhh I mislabeled my shampoo/conditioner and my cleanser/moisturizer so I was accidentally putting shampoo and conditioner on my face for three days in a row!!!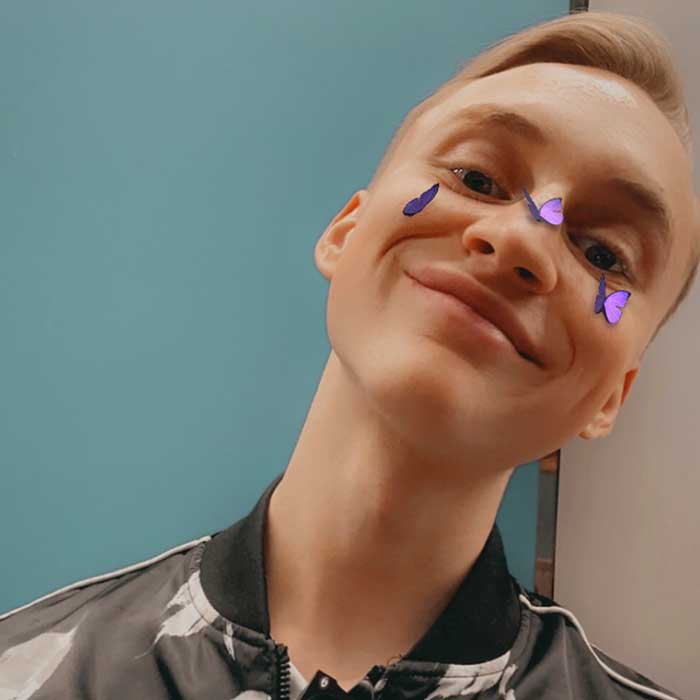 Had a three-course group lunch that was really yummy – I got fish! And then I took everyone's photo because Simon, the marketing manager, introduced me as the picture guy for the quarter 📷. The three-course meal was in a darkly lit restaurant and all of us were still tired from jet lag, so I started fading a little bit. But the tour after lunchtime was still really interesting. We split into mini groups, each one with a tour guide. Our tour guide showed my mini group of eight people a lot of places with rich history and we also went to some of the off-the-beaten-path parts of town, which was good because I felt safer checking out these areas in a group setting.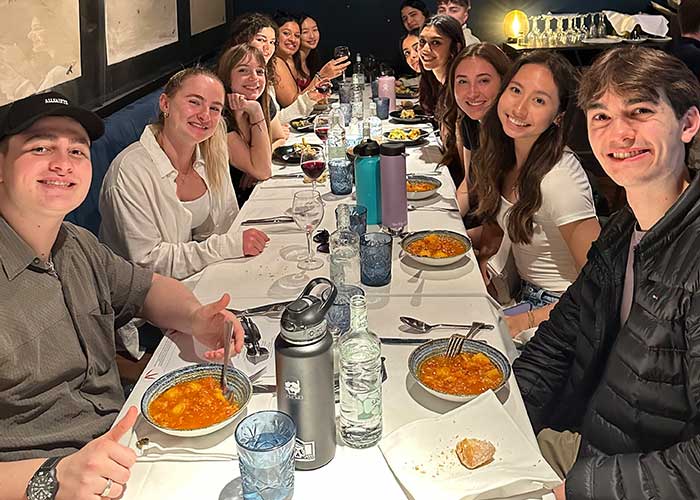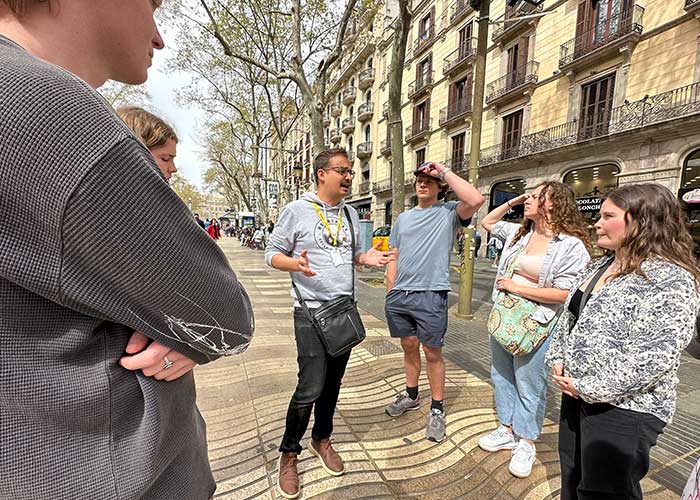 01/04/2023: Gay Day!
🌈
Next day was my personal Eixample Day – The Left Eixample is the gayborhood of Barcelona!* I came across the Casa Batlló along the way!!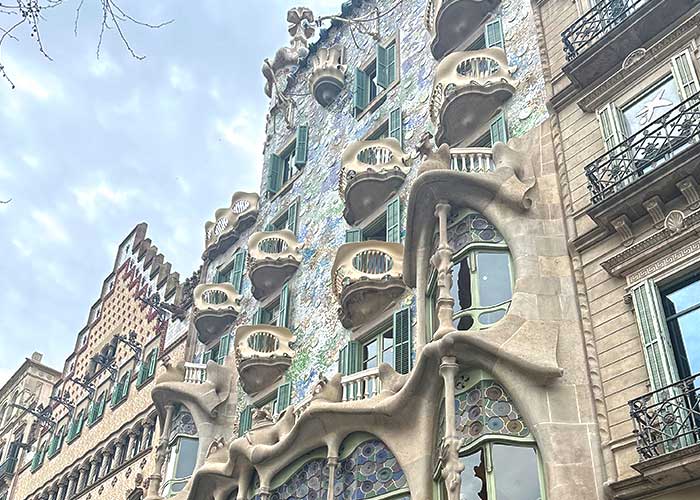 I popped into Priscilla Cafe (an iconic gay bar) midday to see what's up and check out the interior.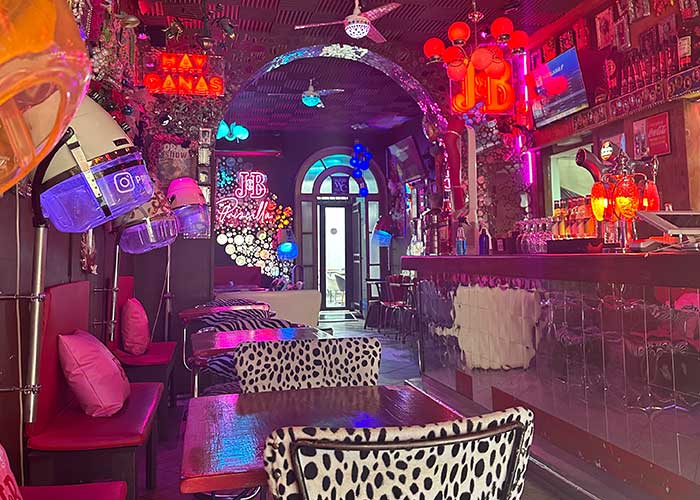 Then I got a quick bite to eat. Food was pretty good, but omg the waitress was this stunning woman who looked like J-Lo and it was my first time using Spanish and it was so affirming when she said gracias guapo and de nada guapo and that made my day. I got tripped up when she asked me what I wanted for postre aka dessert because I didn't know that word and so somebody at the table next to me had to translate which was a little awkward, but it's a journey.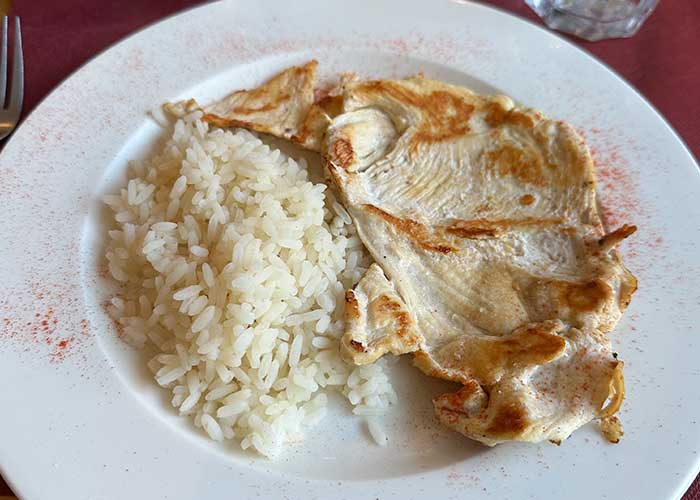 *Barcelona is a very LGBTQ+-friendly city 🏳️‍🌈. For more information on local bars, clubs, restaurants, and more, a great LGBTQ+ resource is GayCities.
02/04/2023: My First Drag Show!
In the morning, Max and I met up in the Gracia neighborhood which is really interesting because it used to be its own town and then got annexed to Barcelona and so it has its own culture and feel to it. We saw the Castellers aka human towers. Knew I was at the right place because before things started in the town square there were ambulance trucks and police 🚑. The event itself was so incredible and mesmerizing and scary to watch all at the same time.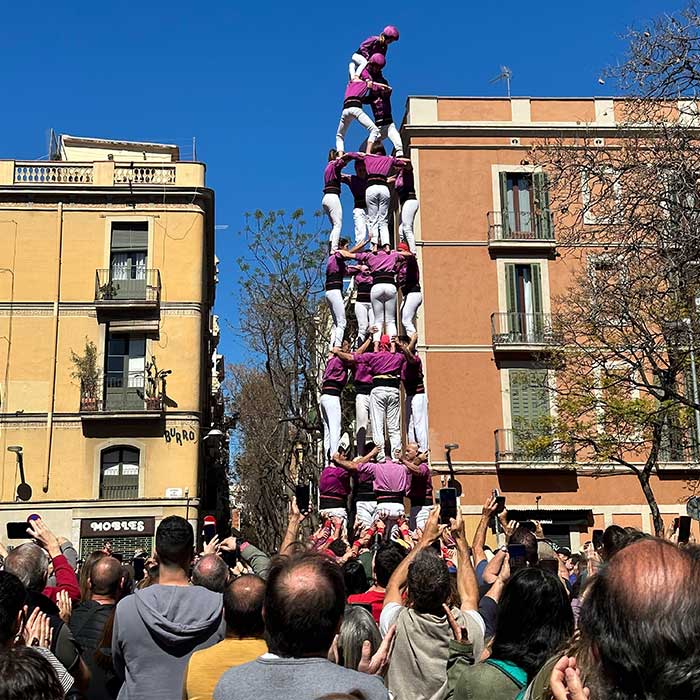 Toward the end of the event, we ran into my friend Preyal and her two apartment-mates who are also in the study abroad program. I looked up things to do in the Gracia neighborhood and saw the suggestion to go to this local lesser-known-among-tourists-but-popular-among-locals tapas bar. OMG so good!!! We had sangria 🍷 and then I also had a glass of vermouth (un vaso de vermut) because that is what this particular spot is known for and I had never had vermouth before so I was like if any place is the place to try it it's this place. We got charcuterie boards, potatoes, and leeks, and it was such a good time. Afterwards, the five of us walked around Gracia and unfortunately a lot of the stores were closed because it was Sunday. But we saw a lot of the Gaudí architecture. And researched Parc Güell a little more because we want to check it out at some point when the timing is better.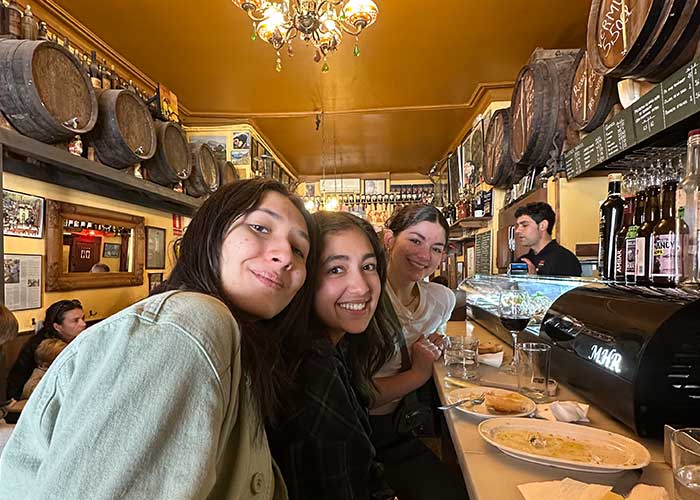 That night, I went to Churros con Chocolate at El Teatre Apolo, my first drag show ever!! The event had a mix of Spanish queens and UK queens. Vanity Milan, who's apparently from Rupaul's Drag Race UK, was a really good performer. The queen on the right in this photo kinda gave us nothing but I kinda lived for it. Crowd was absolutely electric, and I was like wow I'm doing it… I couldn't spot any Americans there because everyone was singing along to the Spanish songs. I felt a little lonely because I was just by myself and it was too loud to meet anybody so it was kinda like the cliques that were already there just kinda stayed as cliques. Except there was this one boy named Adri who chatted with me and was really sweet. Wish I had more pictures from the show because the club was insaneeee and so packed with people, but I had heard stories about people getting their phones stolen at clubs so I only took my phone out for a quick sec to take a panorama video.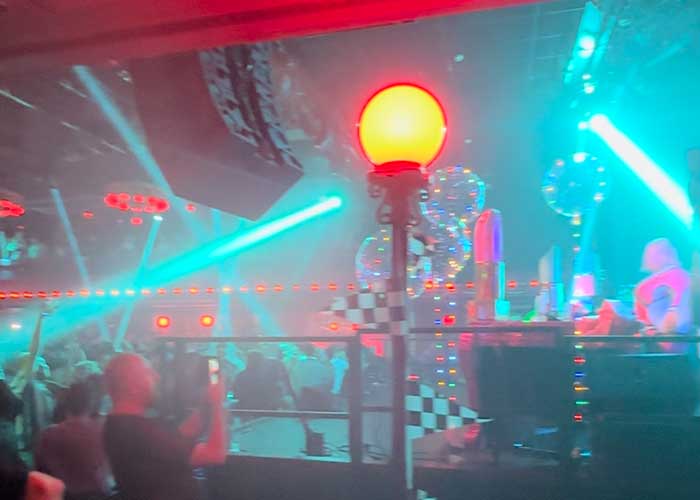 03/04/2023: Ice Cream Ham Cones!
🧀
Another day of walking! I met midday with Simon, who briefed another student named Evan and me on our marketing internship, and then I decided to have another long walking day because of all the little alleys and pockets of the city I hadn't seen yet. I went to La Boqueria market* and got this yummy cone of ham and cheese. One of them I got was the Iberian ham and the other was the Serrano ham, both really good. Then I wandered down some of the alleyways. I walked into some vintage stores 👖 because I was impressed with how far some of the stores go back – so many stores in Barcelona look tiny from the outside, but once you are inside they become really big. I went back to Eixample to check out the Axel Hotel Sky Bar. It wasn't the right time because it doesn't open until 19:00, but I got good views and will definitely go back one night, probably a Friday or Saturday. There was this couple up there named Eric and Ruben who I conversed with and they told me they live 5-10 minutes away from Port Aventura, the theme park outside the city 🎢. They have annual passes to Port Aventura, so they told me that whenever I decide to go I should hit them up!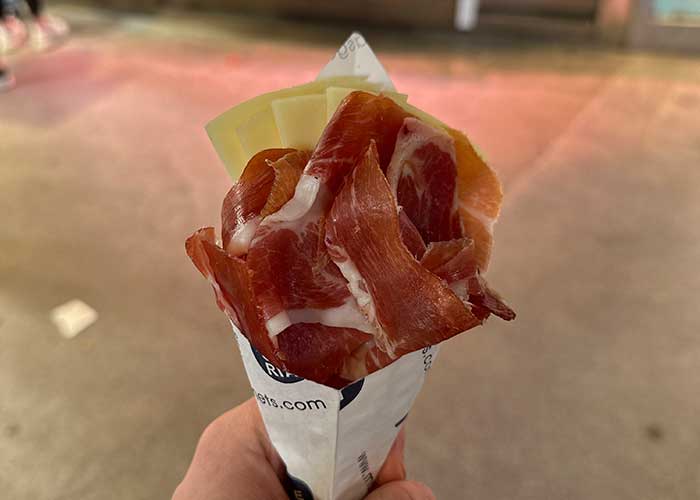 *Barcelona's vibrant markets are a must-see!
04/04/2023: Getting Run Over by a Subway!
🚇
Wow, this past day was a big day! So I had my first class from 08:30-10:00, International Business. The professor seemed super sweet and knowledgeable. Afterwards I got un cortado at a cafe and relaxed here at my apartment for a little while because I was tired… my sleeping habits are so messed up!
OK but then my day became amazing. I had chatted online a few days prior with a Barcelona local named Max (different from my UW friend Max) who was interested in showing me around the city. He's 24 and speaks Catalan, French, Spanish, English, Polish, Chinese, Japanese, and I think a few others. He works as a language teacher and is also a biophysics student in the process of writing his dissertation. His English is crazyyyyy… he's mostly self taught but knows so many advanced words. We met at the Arc de Triomf and then walked through the Parc de la Ciutadella which is nearby. About 5 years ago he worked as a Barcelona tour guide, so he knows SO MUCH about the history of all the buildings and statues and culture and everything. I learned so much, like how you can tell how a soldier died in combat by how many legs the horse is raising up. Or how if someone gets run over by the Barcelona subway, the subway system can't run again until a priest comes to bless it. He gave me an amazing tour of the park and kept spitting out facts. It was incredible to listen to. And then we walked through the Pobleneu neighborhood which he knows really well. And I'll probably be back there on a Saturday when they have a big flea market happening. He and I took the subway plus a funicular up to Montjuic Hill where there's a castle 🏰 and amazing viewpoints. We did a little bit of extra walking to get up the hill, but it was a pretty walk up – they even had a slide at one point! Max and I walked down by the water and then throughout the Gothic Quarter. He pointed out his favorite food spots and led me down some new alleys. I don't want to jinx it, but I think there's a good chance we hang out again and he shows me around a new part of the city🤞.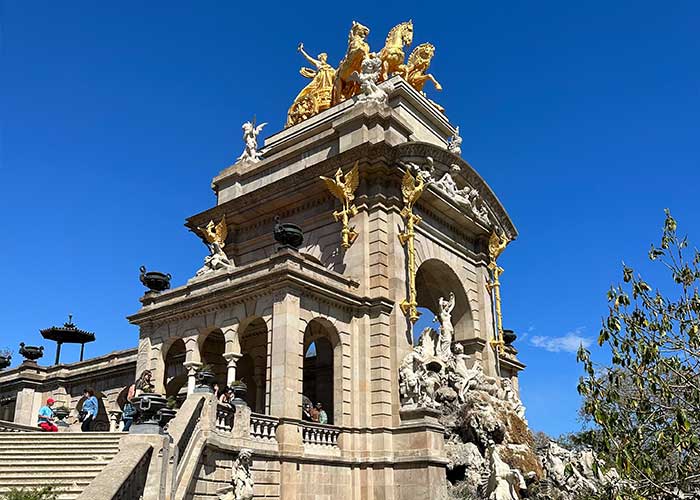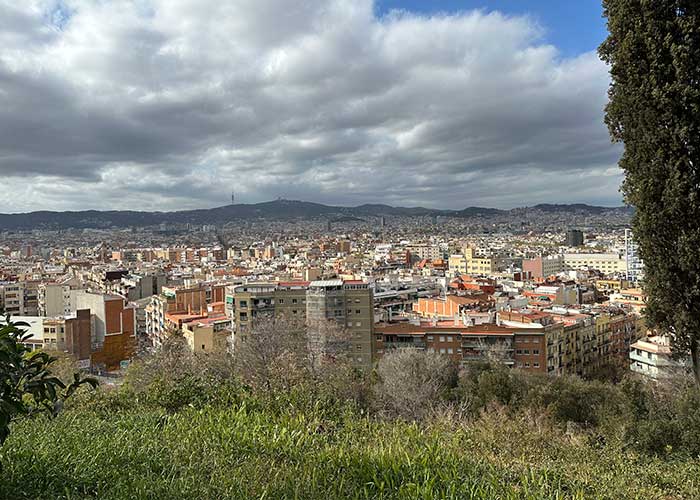 I have a homework assignment to work on tomorrow, and I'm gonna need to try to get my fitness act together haha. And probably go for a long walk because I must take advantage of being in such a vibrant city.
First week done, can't wait for what lies next!! Stay tuned! 😊
Dear Reader,
Thank you for making it this far! I hope you enjoyed reading about my adventures and that it has inspired you to come to Barcelona and experience this wonderful city to the fullest.* I still have an exciting quarter of classes and experiences ahead of me, so I will just leave you with a few thoughts for now… so far, I have been having an absolute blast in the ALBA study abroad program, and I'm not just saying that as a Marketing Intern. I have truly been loving the balance between being a student in the program and being an independent traveler. It has been fun meeting others in the ALBA study abroad program and attending ALBA classes and events while also having plenty of personal time to explore at my own pace. While going on solo adventures can sometimes feel lonely and scary, what has helped me is taking things one day at a time as well as taking lots of photos along the way. While I can sometimes get down on myself for not being 100% productive with each day, my study abroad photo diary reminds me that I have actually done a lot so far during my study abroad. The start of a trip can sometimes feel rocky due to a combination of jet lag, culture shock, loneliness, and that feeling that you're not "doing" the city right. But if you continue to push yourself out of your comfort zone, you will soon hit your stride – and maybe meet some amazing locals along the way :)
Keep thriving and living your best life ❤️,
Aidan
*Interested in studying abroad in Barcelona? Read up on these 15 tips for BCN study abroad students.