When does this festivity take place?
Santa Eulalia's festivity is always celebrated on February 12th. The festival of Santa Eulàlia is also known as "La Laia" festival, nickname for Eulalia.
Who was Eulalia?
You have to be wondering who was Eulalia and how she became a Saint. She is the city's 'second' patron saint. She is a co-patron saint of Barcelona along with "la Mare de Déu de la Mercè". She represents justice, solidarity and youth. She died on February 12th 303 and nowadays this day is celebrated every year as Saint Eulàlia's day.
But, how did she become a Saint?
The legend tells that this 13 years old girl was prosecuted in the beginning of the 4th century by the Roman Empire for being Christian. She refused to turn down her Christian faith and the Roman Consul Dacià punished her with 13 horrible agonies. Each torture was more painful than the previous one. Here there is the list of all of them:
She was imprisoned naked in prison
She was whipped while she was naked
They tore her skin in stripes
Standing still barefoot over burning embers
They cut off her breast
They rubbed her wounds with rough stones
She was branded with cast iron
They put needles over all her body
They threw boiling water over her
They threw molten lead over her
They locked her up inside a room full of fleas
Roll her down naked inside a barrel full of knives, broken glasses and swords
They crucified her
Nowadays, in the Gothic Quarter there is a street called "Baixada de Santa Eulalia", meaning "Saint Eulalia's descent". It's supposed to be the street where she was rolled down inside the barrel. When she came of it, she didn't have a single scratch.
The story says that God protected her and made her immune to pain. She ended up crucified in the place she finally died. The story says that at that moment it started snowing, covering her body and hiding it from the indiscreet looks of the locals.
How is this festivity celebrated today?
To celebrate this Barcelonian festivity, the city organizes a ton of Catalan traditional activities: parades through the streets and squares of Ciutat Vella with giant big heads, medieval dances, concerts, plays, correfocs (in which people dress as devils and dragons and run through the streets breathing fire and sparks), castellers (human tower-building) in the Plaza de Sant Jaume, etc.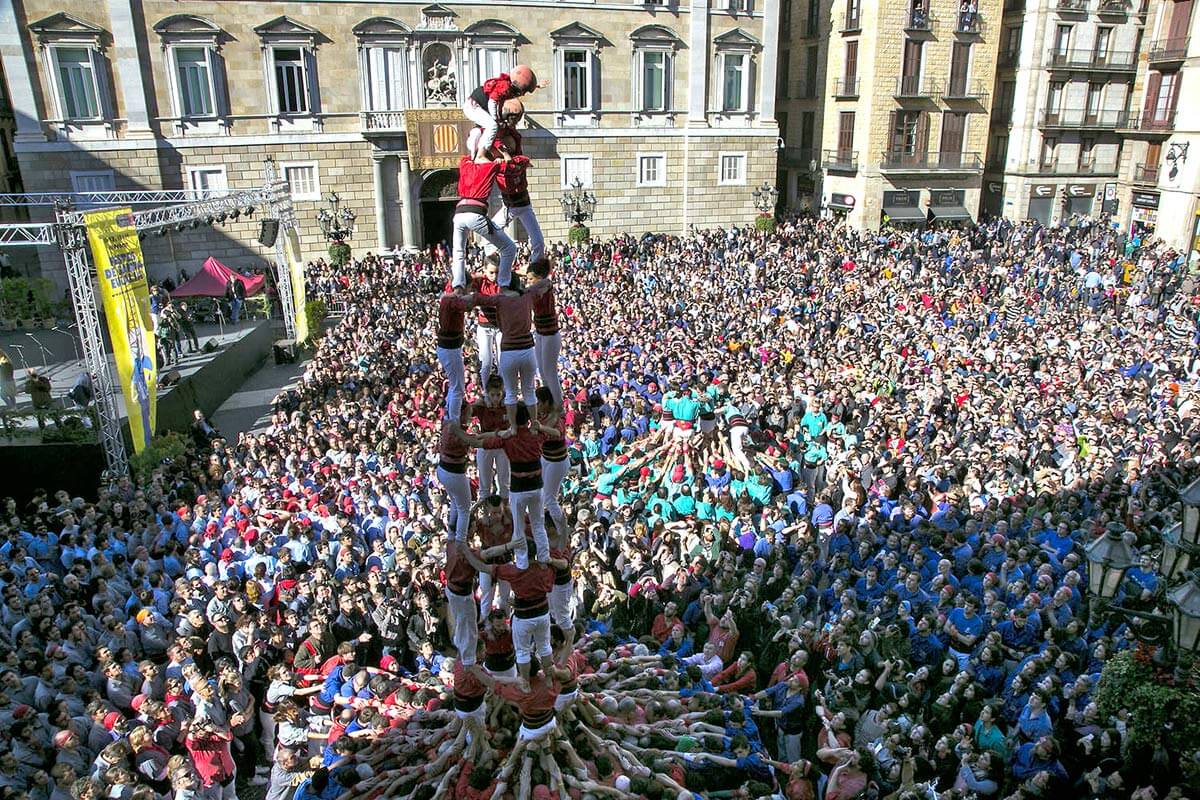 For more info about all these cool events, you can check the official program here.
Get ready to have a lot of fun!