Coming to Barcelona presents a wide variety of new and intriguing places and experiences to explore, whether it be shopping, eating, studying, relaxing, or sightseeing. These suggestions give you a look into my life as a college student studying abroad, searching for and discovering the most unique opportunities. I have carefully curated my own "All About Barcelona" guide that I think resonates with the interests of many other college students who want to study abroad, or simply those just looking to travel around this beautiful, urban city rich in culture and history.
By Ava Wardian
BOUTIQUES
For me, a big part of traveling to Europe, and specifically Barcelona, meant being able to shop new trends and discover unique or special clothing staples to bring home with me at the end of my time studying abroad here. I think most people can agree that Barcelona is full of vibrant and intriguing fashion that is appealing to so many different demographics and very fun to partake in.
While stores like Bershka, Zara, or Pull & Bear might seem like new and exciting places to shop at first, they tend to become mainstream pretty quickly and lack the sort of "wow" factor I'm sure most people want to find when buying clothes, shoes, jewelry, sunglasses, and more during their time in Europe.
I can personally attest to feeling this way very soon after arriving in Barcelona. The first week I was here, I was infatuated with the chain clothing stores I mentioned above and spent quite a bit of money on the first things that caught my eye. Although these items are nice basics to have, they lack a sense of uniqueness I was craving when encountering European fashion.
One day after class, I decided to walk around the Gothic quarter by myself to check out the area and see what types of shops surrounded my new home. I was ecstatic to find that there were an abundance of little boutiques with the "one-of-a-kind" pieces I had in mind when coming to Barcelona.
ROA
ROA, a small, locally run clothing business located on Carrer de Calella, quickly became my new favorite place to shop and is still easily one of my favorite places to pop in and look around. The clothes are all high-quality pieces made of nice materials such as canvas, silk, among other things, and I haven't seen them anywhere else. There is so much to look at upon entering – gold plated jewelry with intricate designs, simple accessories, outrageous sunglasses, fun prints, beautiful shoes…the list goes on. I could spend forever in this store, and my favorite part of going is reading the quote on the chalkboard sign outside the store entrance that changes every week before going in.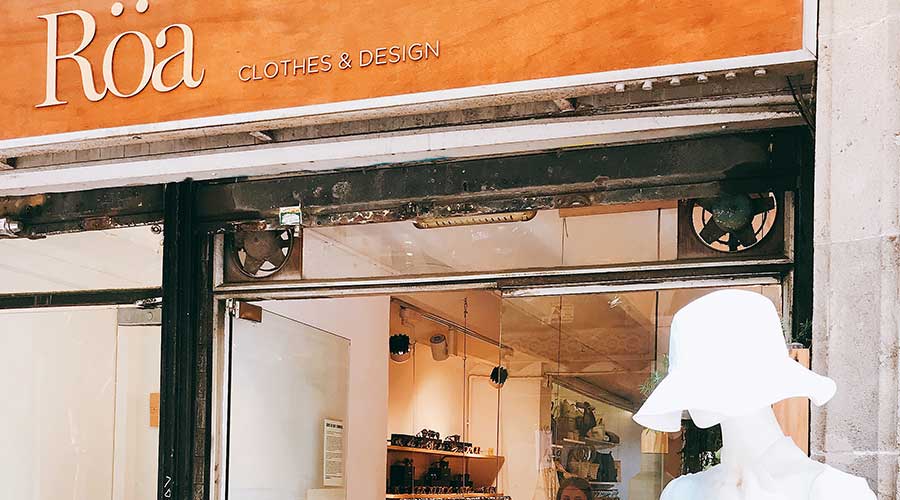 Beyond the unique and ornate clothing and accessory designs ROA has to offer, the store radiates genuine and positive vibes, and the owner is one of the happiest people I have met since being here in Barcelona. The fashion ROA shares with customers is cutting edge, while timeless and versatile at the same time. Although the products are beautiful and unique, the atmosphere is a central part of why I keep going back (probably way too often). Bottom line is, if you're looking for fashion that goes beyond mainstream trends and instead test limits and presents beautiful products, go check out ROA boutique!
PLHI
Coincidentally, Plhi Studio is located just across the street (I'm not kidding, maybe ten steps) from ROA, which has been especially convenient for me with how often I like to shop. Similarly to ROA, Plhi sells extremely interesting and fashion-forward clothing and fun accessories as well. For me, Plhi has become my ultimate favorite small boutique during my time here in Barcelona because I have become friends with the owner, Cecilia, who I have learned designs and handmakes all of the clothing herself. There is something about making personal relationships with the people that own or work at the stores you visit an all-encompassing and enjoyable experience.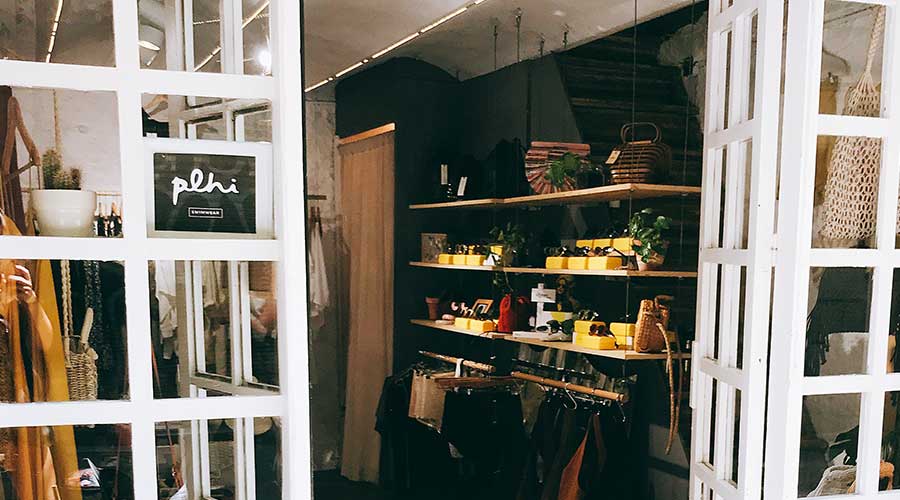 Last time I was in, Cecilia showed me how she goes about carefully curating accessories she sells in her store including quality leather bags, exclusive sunglasses only made in Spain, and exquisite swimwear. She also showed me her new website she had been working on for months after just having launched it the day before, and shared her Spotify playlists with me because I mentioned I loved her music taste. It was really cool for me to see the marketing and production side of her business based in fashion, design and retail because these are all things I see myself incorporating into my future career.
Every time I try on different clothing designs in Plhi, Cecelia checks in about style and fit, and if something doesn't work she offers to make the item according to my exact measurements and print or pattern choosing. Of course, I love the style and environment Plhi Studio provides, but it is the kindness and genuine excitement Cecelia and her team exude that keeps me coming back so frequently.
FLOWERHEAD
I have stumbled across Flowerhead just recently in my last few weeks here before returning home, and was pleased to find a boutique with more of a retro vibe to it. Flowerhead is located just around the corner from my apartment here in the Gothic Quarter on Carrer de Ave Marie. The clothing pieces are very individual and distinct, which I really like because they are different from what you typically see in many department stores or mainstream clothing chains. In addition, Flowerhead also has a cool selection of vintage clothing and a huge sale section on top of their already affordable prices.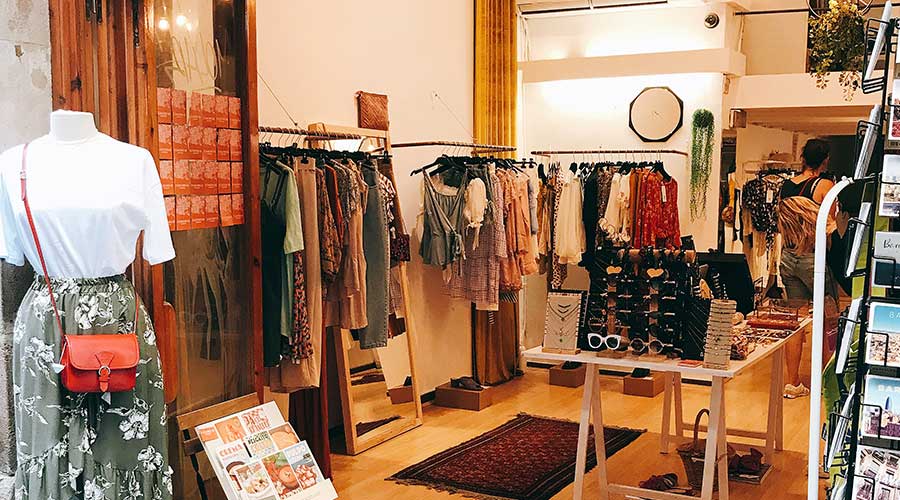 I particularly enjoyed how the boutique space was designed and how the clothes and accessories were displayed in an eye-catching way. I appreciated how the people that worked there were helpful and available if I had a question, but let me take a look around at everything without being overwhelmed and pressured to buy anything. Since the first time I stopped in, I have been back a few times – each time noticing new items added and intriguing things to look at.
CAFES
I think back home, no matter where home may be for you, most of us have our go-to cafes and coffee shops we always go back to when studying or meeting with friends. During my first week here in Barcelona, I checked out a couple of coffee shops I had seen pop up on my social media or that were recommended to me. Although I did enjoy these cafes to some extent, they seemed a little pretentious and "Americanized" to me, so I decided I would wander around some different areas outside the Gothic Quarter that were a little less concentrated by tourists.
I was pleasantly surprised to find many different cafes that satisfied my desires for quality coffee, calm study environments, cool music atmospheres, and great food as well. It's amazing the places you'll stumble across if you just set out with no expectations in mind and let yourself adventure freely.
DEPARTURE
If you're like me and enjoy studying in calm, inviting environments, Departure Cafe is the place for you. In my first couple days in Barcelona, I was exploring the neighborhood surrounding the area of Ronda de Sant Antoni when I stumbled upon a cute little coffee shop down a deserted side street.
Back home in Seattle, I think coffee shops can be a hit or a miss when it comes to providing the proper study environment, as well as serving quality coffee and food with pleasant service. Departure exceeded all of my expectations, as it is run by a brother and sister who are some of the most inviting and caring people I have encountered in Barcelona.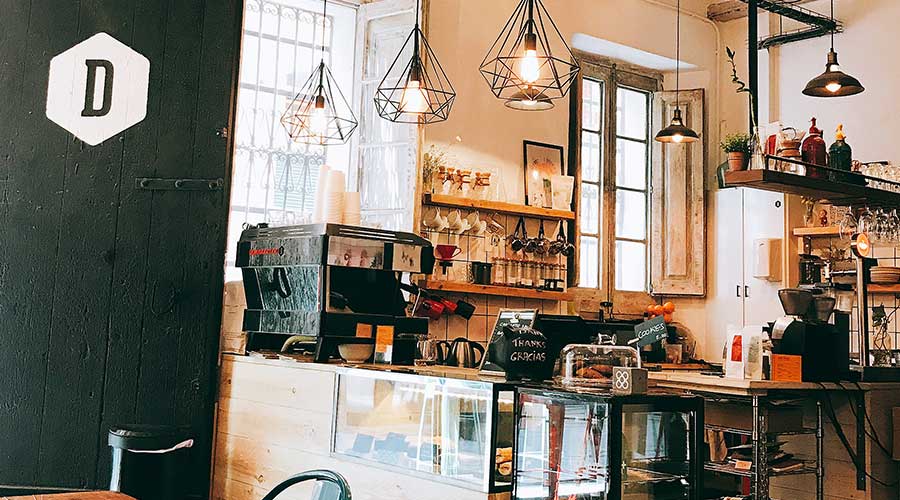 In addition to the superb customer service, the overall environment of the cafe is cozy and small, and provides the perfect studying or working environment for students or anyone wishing to work on projects or other related things. The aesthetic of the coffee shop is simple with bright chairs and murals to add pops of color, as well as a new art exhibition put on display and changed monthly.
Beyond the home-y and comfortable studying environment Departure creates and provides for customers, the actual coffee is amazing. They have oat and soy milk options available for a wide array of coffee choices and combos. At this point you're probably thinking, what else could they even offer to set Departure apart from most of the generic and Americanized coffee shops you'll encounter. Avocado toast. That's what. Imagine the best avocado toast you've ever had, but better. I seriously have never had avocado toast this delicious, but in case that isn't your thing – there is a huge selection of other toast toppings, breakfast items, and pastries.
I think the reason I recommend Departure to anyone asking about cool places to study or hangout at is that they are authentic and organic in their customer service, product, and store aesthetic. Genuinely one of the best study environments I have ever encountered – I should branch out and try some different coffee shops, but I can't seem to stop myself from going back. It's amazing the hidden gems of places you will come across when you least expect it, and Departure was definitely one for me.
ALSUR
After consistently returning to Departure over and over again, I decided a few weeks in that I should probably branch out and try some new cafes/coffee shops in different areas. I had been wanting to explore El Born, so I began walking around that area hoping to find a coffee shop suitable for studying and working on applications. I was happy to find Alsur Cafe, a few blocks over from the big market just outside of the Born district.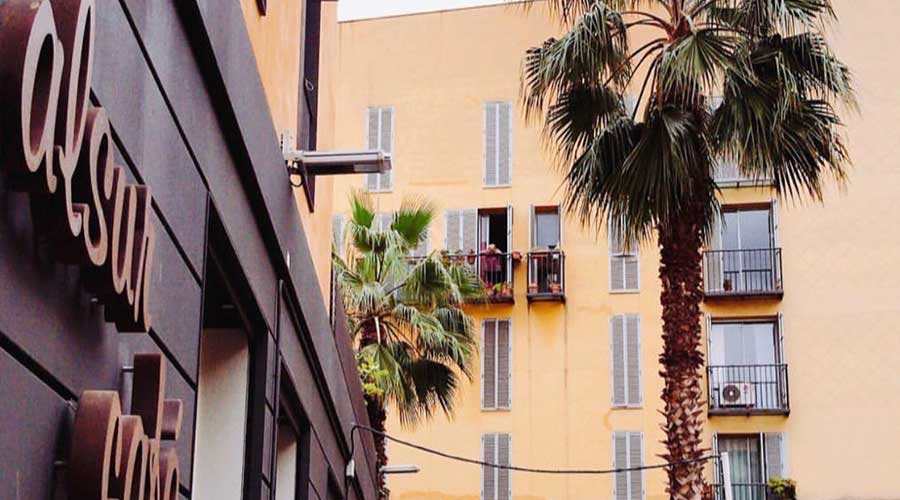 First off, the coffee is superb and there are numerous milk options including soy, almond, and oat to name a few. In comparison to other coffee shops I have been to, the prices are so cheap and the quality is amazing. In addition to the fabulous coffee, the food menu is never ending and overwhelming in a sense because it's so hard to decide what to get when everything looks so good. They offer a wide variety of options ranging from brunch meals to lunch or more typical dinner foods. The desert and pastry selection is also one of my favorite offerings at Alsur – perfect to pair with a coffee while getting work done or just meeting with friends.
Finally, the work staff is really inviting and the cafe itself is spacious and very aesthetically pleasing. I have spent many hours being productive here while enjoying the food and atmosphere at the same time. There are also a few different locations, so it's nice to be able to switch up which one you go to.
CITIZEN
If you're looking for more of a restaurant vibe of a cafe with killer brunch, Citizen cafe is definitely a spot you should check out. It's located in Plaça d'Urquinaona, about 15 minutes from the Gothic Quarter towards Gracia. Citizen is a lot more versatile in terms of reasons for going there, and I would say it's more of a hangout spot to grab brunch and a coffee with friends.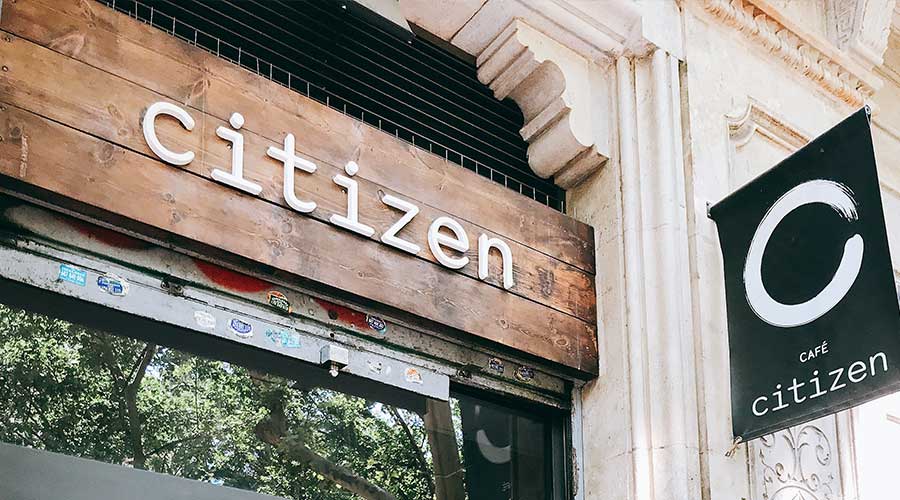 I have come here for both studying purposes as well as to meet up with people for interviews or leisure. Both dynamics work here, and the coffee, food, and service is all exceptional. I like that the location is more remote and not as populated or overrun by tourists. The vibe is very chill and laid back, and I would definitely recommend coming here with friends or by yourself to enjoy the environment and food/beverage.
URBAN LIFE
No matter where you come from around the world, Barcelona is a place people travel to with the intention of exploring and experiencing all the unique outlets that the city offers. If one thing is for sure, it's that Barcelona is one of the most populated metropolitan areas on the Mediterranean coast, and in all of Europe. This guarantees a strong and vivacious feel for urban life provided by the people and activities that surround this amazing city.
Throughout my time here, I have sought to become fully immersed in the urban lifestyle and culture of Barcelona, and by doing so I have found some of what I think to be "must see/do" experiences for students studying abroad. From the museum of modern art, to music festivals and live music at "Brunch in the Park/City," to biking or zipping around the vastly different areas of the city, my experience living here for the past three months has been truly transformed. By allowing myself to get lost and engage with the urban spaces of Barcelona, I have been able to bridge the contrasting lifestyles of tourists and locals in a rather seamless way.
MACBA
Personally, art has always played a huge role in my life. I have been passionate about practically all forms of art ranging from more tangible styles like painting, drawing and sculpting, to graphic and digital design, to text, logos, and various media platforms. During my first week in Barcelona, I stumbled across the MACBA museum of modern art that is pretty centrally located in the city. I knew this was a place I needed to explore, and the exhibits exceeded my expectations. The vastly different ideas, talent, and communicative approaches showcased through the work of all the distinctly diversified artists at the MACBA were so inspiring, and opened my eyes to new perspectives not only about Barcelona, but myself as well.
I think that whether you are interested in or passionate about art like me, or you have no previous exposure to it, the MACBA is a perfect way to explore the urban setting of this modern city with so much history and culture embedded in it. It is fascinating to see modern representations of the world through the lens of artists coming from extremely different personal and cultural backgrounds sharing their perspectives on how uncovering layers of history leads us to the present issues in today's world.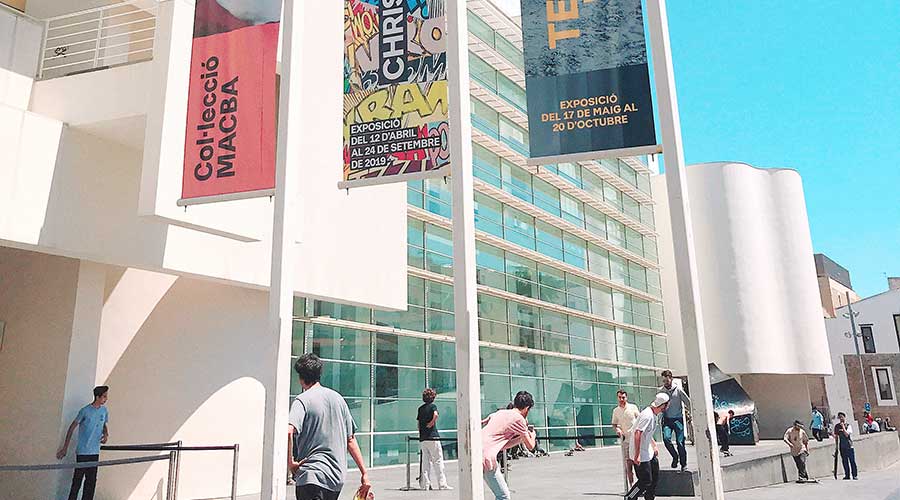 Exploring the MACBA is also easy and cheap (or free) for students since there is free entry on Saturdays from 4:00 – 8:00 pm, or a reduced fee with student ID of 8.80 euro. There are also certain days during the year that the museum is free entry to the public. For instance, International Museum Day on May 18th, and other special days that can all be found easily on their website. If cost is something you are worried about as a student, MACBA is definitely a spot in Barcelona I recommend exploring because there are many free opportunities to experience the rich cultural and artistic exhibitions within the museum.
BIKES ON THE GO – BICING
During my first couple of weeks of being abroad, it became obvious to me that there is an overwhelming amount to see and do throughout the different areas of Barcelona. Walking around the colorful and lively streets is definitely a great way to explore the city, don't get me wrong – but after walking more than ever before in my life, I wanted to be able to adventure further into diverse parts of the city without having to taxi or walking aimlessly for hours upon hours. I was excited to find electronic bikes (these particular ones by a company called Bicing) that connect to mobile apps and unlock from your phone like the Lime and Ofo bikes I have used back in Seattle.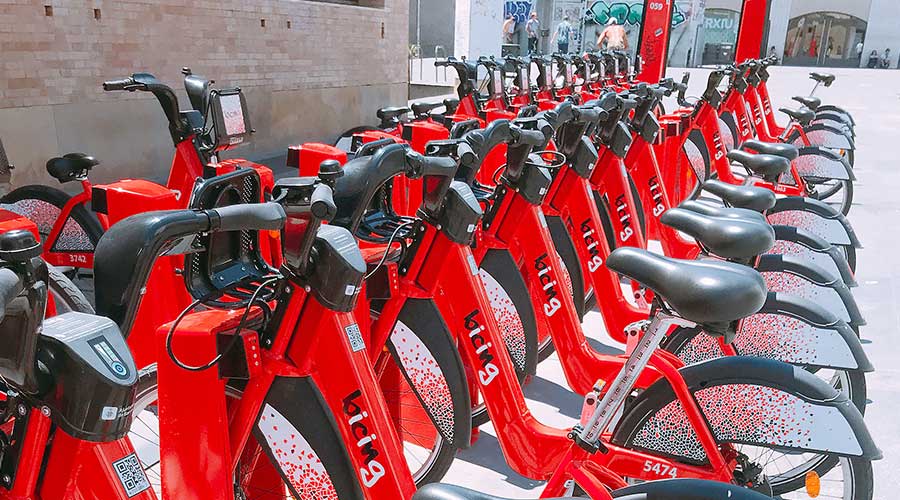 Biking around Barcelona is such a fun, easy, and cheap way to get around and experience all the city has to offer. Some of my favorite memories from being abroad are when I have biked around the beach or diverse areas like Sant Antoni or Gracia with friends to try new restaurants or see cool sights. I think the best adventures are the ones with no particular destination in mind where you can just explore and discover your new home in Barcelona. You can find these bright red Bicing bikes on practically every corner of any area in the city, and it takes a matter of minutes to unlock them and set out on an adventure. Barcelona is a huge city with so much to explore, and biking is an awesome way to get around.
BRUNCH -IN THE PARK & -IN THE CITY
Music is a huge outlet and opportunity to experience culture and have fun in Barcelona. "Brunch" either in the park or in the city, is an event that happens every other Sunday starting at the beginning of Spring each year and extending throughout the Summer season (so roughly through the months of March until June). The general idea of the music festival event is that the venue changes every other weekend and showcases different artists and DJs, as well as various food trucks and beverage stands. Some of the past venues have been Antic Fabrica Estrella Damm, Jardins Teatre Nacional de Catalunya and Plaza Mayor de El Poble Espanyol – all cultural and historical hubs of the city. Artists and DJs that have been featured and played at the events come from all over the world, including Fisher, Blondish, ISAbella, Jorge Gamarra, Jon Hopkins (dj set), and Bob Moses "Club set" to name a few.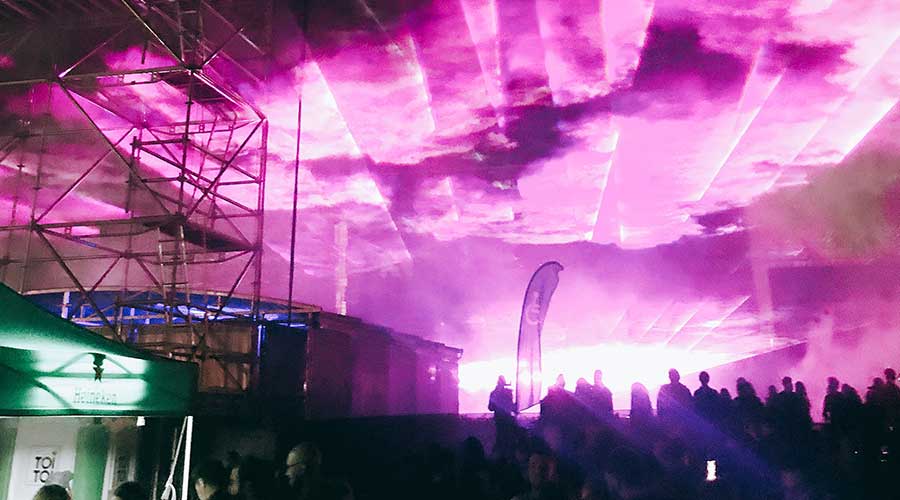 Not only is this a fun experience to share with friends and delve deeper into the cultural aspects of Barcelona, but these events are a great way to meet the most interesting people that you may not have ventured out to meet any other way. I think music is a perfect way to bring people together, and these "Brunch" music festivals encompass artists from all over the world that bring a wide variety of cultural aspects to the table. If you truly want to experience the urban lifestyle of Barcelona, I recommend looking into these music events and the different venues they take place around the city.