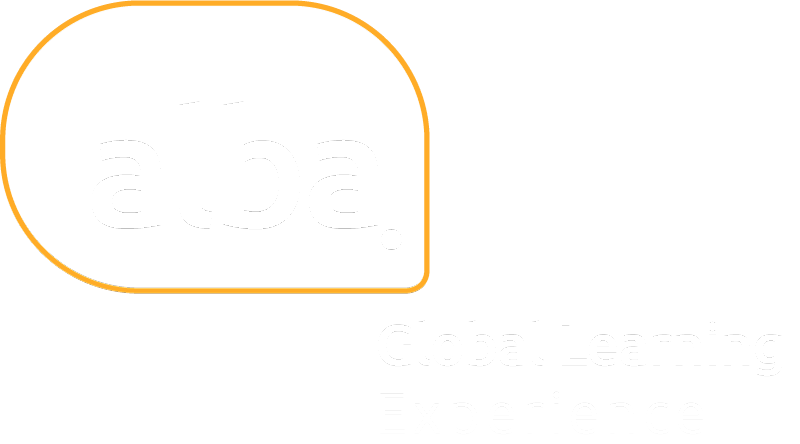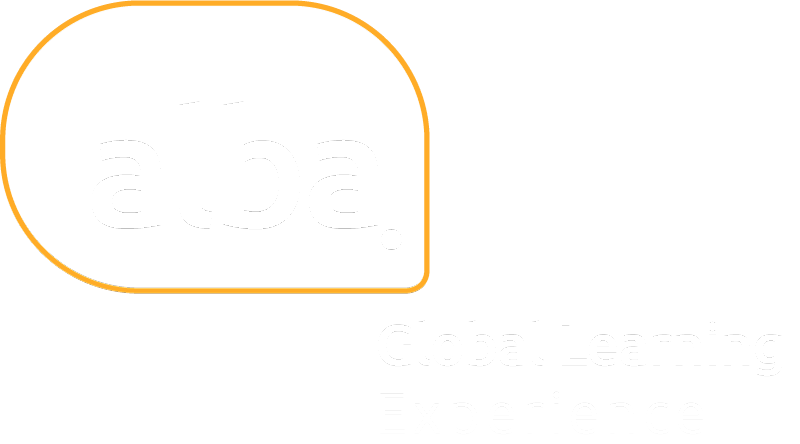 Intercultural eLearning
Choose from a wide range of small-group online courses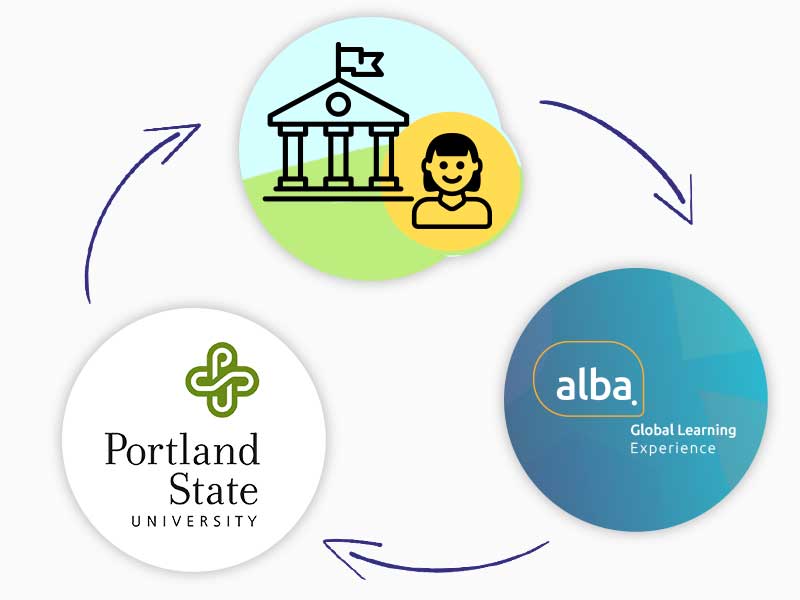 All Course Offerings
The course's final availability is subject to the number of students enrolled: 3-4 students per course minimum. Students will be notified of the definite course list one month before orientation.
All courses will have three weekly hours of live classes, which will be scheduled between 8 AM and 1 PM (PST).
Students should consult their academic advisor regarding all classes of interest.
International Business, Finance and Economics Courses
5 quarter credits / 3-4 semester credits
(MKTG 376 PSU)(IBUS 300 UW)
This course is designed as an introduction to the study of global business. We will examine contemporary issues regarding the political, social, and economic consequences of the globalization of markets and industries. We will also examine the responses of multinational enterprises to the challenges of globalization. Topics include: national business systems, regional and multilateral integration, international trade and investment, the global financial system, culture, ethics and international operations. Because of its introductory nature, the course will introduce a large number of key issues whose understanding can be deepened through subsequent courses or readings.
Course Objectives:
In today's environment many companies operate globally. This class will expose students to the challenges and opportunities managers face when conducting business internationally. The goal is to provide students with the frameworks and tools to …..
5 quarter credits / 3.3-4 semester credits
(FIN 456 PSU)(FIN 428 UW)
This course focuses on the two essential elements of international finance, often called "multinational" finance because in reality the flow of funds across national boundaries is conducted almost entirely by large corporations and large banks with international operations.
5 quarter credits / 3.3 semester credits
(BA 385 PSU)(MGMT 320 UW)
Organizations do not exist in a vacuum. Every day, businesses and their employees face a wide range of pressures and constraints that comprise the political, social, legal, and ethical environment of business. The purpose of this course is to dramatically increase your understanding of these forces and prepare you to become a more effective member of the international business community. The course is organized into three modules:
1. Making Ethical Decisions
2. Managing Relationships
3. Building Socially Responsible Systems, Practices, and Policies.
5 quarter credits / 3.3-4 semester credits
(BA 302 PSU)(MGMT 300 UW)
The field of Organizational Behavior has evolved to help organizations manage and lead their people in a way that maximizes the organization's success and employee wellbeing. This course is an introduction to the basic concepts and topics in leadership and organizational behavior (OB). We will survey several topics that are related to managing and leading people in organizations, including personality, decision making, motivation, leadership, team dynamics, negotiations, and organizational culture. Throughout this course, we will examine how individuals in organizations function across different contexts and levels of analysis: individually, inter-personally and in groups, and in organizations.
5 quarter credits / 3.3-4 semester credits
Geography, Art, Architecture, Sociology and Communications Courses
(ART 410 PSU)
A survey of Spanish and Catalonian art and architecture using the city of Barcelona as the classroom. From Ancient Rome through the Middle Ages, including Romanesque and Gothic art and architecture, the Golden Age of Spanish Painters, where the influence of Humanism, the Enlightenment, the Reformation, and other political and social changes influence the works of Velázquez, El Greco, and Goya. The course deals with the Art Nouveau movement in Barcelona, where the works of architects such as Gaudí and Puig i Cadalfach are seen as a direct reaction to the spoils of the Industrial Revolution, the early 20th Century Avant-Garde movements, with Picasso, Dalí, and Miró all playing major roles, and finally, Barcelona's urban transformation from major, industrialized city to its post-Olympic status in the 21st century.
5 quarter credits / 3.3 semester credits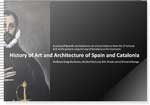 View course teaser (PDF)
(SOC 410 PSU)
This core course introduces the student to contemporary issues in Barcelona and Catalonia by paying close attention to its cultural, historic, and artistic patrimony. It begins by exploring the pressing issues of today — the question of independence in Catalonia and the widely acclaimed "Barcelona Model.
*This is our ALBA core class that all ALBA students take and greatly benefit from in understanding Barcelona, Catalonia, Spain and the European Union. Course substitution may be granted under special consideration.
5 quarter credits / 3.3 semester credits
(COM 415 PSU)
Intercultural Communication through TV Shows and Films – Persuasion and the Media. European & U.S. Perspectives
Course hours: up to 50 hours
Credits: 5-quarter credits
Type of Course: COM/PSYCH/IS/MEDIA (COM 425 PSU)
Term: Fall, Winter, Spring, Summer
Language: English
Instructor: Dr. Carles Murillo
Email: carlesmalba@gmail.com
Course Description
When forming personal opinions, most of us draw on intuitions and principles that guide us through the simple cases, but how can I learn to communicate with care and respect about clashing views concerning diverse socio-cultural norms? Is there a universal set of principles, an objective standard to which all cultural norms can be evaluated? How do I determine what's wrong and right? What skills do I need to learn to identify moral dilemmas in real-world scenarios and how to communicate them? In order to find out possible answers to these questions, this course invites students to enhance their familiarity with academic notions of intercultural communication by looking into the relationship between culture, psychology, philosophy and communication. Students will explore the principles on which one's own values are based and how to grapple with contemporary controversial issues, which this course brings face-to-face through examples taken from current films and TV Shows.
Its guided analysis will help students to test personal premises against common arguments and fallacies and identify contentious topics. Since these will be visualized through TV Shows and movies from the U.S, Spain and Europe, students can identify with the characters who embody real-life situations that are likely to be faced in the future, either in professional or non-professional settings. For this reason, students will also practice how to anticipate real-world challenging situations and practice decision making while they evaluate communication responses and build substantive arguments to express personal opinions in inter-cultural contexts.
5 quarter credits / 3.3 semester credits
Spanish Language & Culture Courses
6 quarter credits / 4 semester credits
(SPAN 330 PSU/399)
Taught in Spanish and completely outside of the classroom in the streets of Barcelona, monuments, museums and markets. This class is designed to develop and sharpen Spanish language skills by exploring local Spanish and Catalan culture including its geography, history, art, architecture, music, film and traditions. The class uses innovative materials and tasks to provide the optimum context for acquiring greater knowledge of the Spanish language and culture. The class is built around out-of-class activities with an emphasis placed on communicative strategies which lead to greater autonomy and fluency.
6 quarter credits / 4 semester credits
Nivel Intermedio-Alto: Habla español bien.
Cada clase tiene lugar FUERA DE LA AULA. Se trata de tareas linguisticas y culturales por las calles, museos, monumentos y mercados de Barcelona
Download the syllabus
Classes conducted in Spanish

Level tests will be taken live and asynchronous

Course work (papers, presentations, projects) in Spanish
Professors
Connecting you with top professors in Spain. Active professionals in the international business and academic community.
Ferran Armada Ph.D.
International Monetary and Financial Economics
Background: Economics, Economic Theory, International Economics.
About me: Applied economist with interests in a long range of economic topics.
I love to teach: How to feel passion for economics.
My pillow book: Misbehaving: The making of behavioral economics – Richard Thaler.
Favorite place in BCN: Montjuïc, it has everything!
Marina Diaz-Cristóbal Ph.D.
Catalonia and Barcelona in a Globalized world / Western European History / History of Spain.
Passionate about international education.
About me: After travelling the world, I made Barcelona my home. I love teaching its history and its idiosincracies.
Lessons I love to teach: The world is a complex place! Beware of the simple
Someone I admire: Artist Marcos Grigorian.
My pillow books: Moby Dick
Favorite place in BCN: Santa María del Mar
Adriana Espinet
International Business: Global & Local / Marketing Concepts
Background: Bachelor and Master Program in Business Administration and Management from ESADE-Ramon Llull University.
Certified facilitator in LEGO® SERIOUS PLAY®.
Ph.D. candidate and researcher in the area of international business with a focus on the service industry.
About me: Born and raised in Catalonia. Passionate about the Service Industry. At present, mixing freelance consulting and lecturing in the areas of business and management. Currently involved in supporting entrepreneurs develop their new ventures & exploring new training methodologies based on design thinking and gamification to improve strategic decision-making and contribute to creativity and innovation within organizations.
Lessons I love to teach: That there is no such thing as the solution to the problem. Often, it's more about the questions rather than the answers.
Books that got me into reading when I was younger: The Perfume – Patrick Süskind. The Inspector Montalbano Series – Andrea Camilleri.
Pillow books any work from Zygmunt Bauman, George Steiner and Nuccio Ordine.
Favorite place in BCN: Walk and get lost, there are always new places to discover no matter how long you have lived here.
Dolors (Loli) Hernández
Spanish Language and culture
Background: I have worked in American study abroad and Erasmus programs at the Pompeu Fabra University. I have also worked at the ESADE Executive Language Center teaching Spanish to Master students and have participated in a Berlin Senate project as a Business Spanish teacher. I have designed and developed Spanish courses for special purposes.
About me: I was born in Barcelona and I´ve been working as a Spanish teacher for 20 years. I love cooking, cinema and photography.
I love to… Conversar con los estudiantes en español
My pillow book: The Truth About The Harry Quebert Affair – Joël Dicker.
Favorite place in BCN: Plaça de Sant Felip Neri
Hiram José Irizarry Osorio Ph.D.
Mediterranean Politics & Politics of the Developing World
Background: Ph.D. & M.A. in Political Science (The Ohio State University) & B.S. in Chemical Engineering (Universidad de Puerto Rico, Recinto Universitario de Mayagüez). I specialize in Development issues, Quantum Social Science (ideation-materiality).
About me: I am Puerto Rican; Love to write (short stories), learn languages (Spanish, Catalan, English, Portuguese, & Arabic), practice judo.
I love to teach: How challenges bring magic into your life.
Someone I admire: Nelson Mandela, Pedro Albizu Campos, Rubén Berrios Martínez, Luis Rafael Sánchez, Elif Şafak, José Luis González, Alejandro Tapia y Rivera
My pillow books: La Guagua Aérea – Luis Rafael Sánchez. El país de cuatro pisos – José Luis González. Immortality – Milan Kundera.
Favorite place in BCN: Jardins de Rubió i Lluch.
José Antonio Lanau
International Finance
Background: Economist. MBA Tech Management. Ph.D. Candidate: Knowledge Management.
About me: I am a català, born abroad, lived in a few countries, Citizen of the World.
I love to teach: Everything related to Economics.
Someone I admire: Bill Gates.
My pillow book: The Name of the Rose – Umberto Eco.
Favorite place in BCN: Gràcia Neighborhood.
Claudia Ledesma
Spanish for Professional Development
Background: In company Spanish Language Teacher.
About me: I think it's essential to understand student needs & how they learn so as to know what motivates them and drives their learning.
I love to teach: Intercultural Business Communication.
Favorite place in BCN: Cadaqués.
Craig Markarian
History of Art and Architecture / Hands-on Barcelona.
Background: BA (Architecture), BFA, Rhode Island School of Design.
About me: I'm an architect, artist and designer, and professor. I teach university courses in drawing for apparel and graphic design.
I love to teach: Velázquez and Goya and 20th-century avant-garde.
Someone I admire: Artist Marcos Grigorian.
My pillow books: Let the Great World Spin – Colum McCann. Wicked – Gregory Maguire. Catcher in the Rye – J.D. Salinger.
Favorite place in BCN: The beach at sunset.
Gianko Michailidis, Ph.D.
International Monetary and Financial Economics / International Trade: Theory and Policy.
Background: I hold a Ph.D. from the University of Barcelona School of Economics. I have received a Master of Science (M.Sc.) in Economics and International Macroeconomic Policy from the Vrije Universiteit of Amsterdam. Also, I spent a semester as a Visiting Research Fellow at the Department of Economics at Brown University.
About me: I am a research economist working on topics in political economy, public economics and macroeconomics. Currently, I am teaching at Study Abroad Programs in Barcelona. On my free time I enjoy reading, traveling, cooking and playing tennis.
I love to teach: International Economics (Trade & Money) and Political Economy.
My pillow book: Thinking, Fast and Slow – Daniel Kahneman.
Favorite place in BCN: El Born.
Francesc Muñoz Ph.D.
Urban Planning and Architecture.
Background: Urban geographer. Professor at the Universitat Autònoma de Barcelona.
About me: Expert in urban planning. Books and texts on urban studies such as 'Urbanalization. Global Landscapes, Common Places'.
I love to teach: Lessons on audiovisual support and city field trips.
My pillow books: Soft City – John Raban. Short Stories – J.G. Ballard.
Favorite place in BCN: Apart from ALBA… El Clot and Gracia neighborhoods.
Meritxell Muñoz Ph.D.
Spanish Language & Culture
Background: Ph.D. in Spanish Language. Experience teaching since 2001 in the areas of Spanish Language, Spanish for Business Development, and Study Abroad.
About me: I love the sound of the sea, I enjoy reading and sharing good times with my friends.
I love to teach: How to buy your vegetables in Spanish, so that the next time you visit the local market, you can draw a smile on the shop tender's face.
Someone I admire: Anyone that takes a fall and gets up again.
My pillow books: The Grapes of Wrath – John Steinbeck. A Widow for One Year – John Irving.
Favorite place in BCN: The gardens of the Universitat de Barcelona, the Sant Antoni Market, La Central bookstore.
Carles Murillo Ph.D.
Intercultural Communication: Sojourners / European Perspectives & Spanish Film & Literature
Background: Degree in Humanities (Philosophy: Ethics & Aesthetics, UPF Bcn). Masters in Comparative Literature (University of Edinburgh) & Masters in Literary Creation (UPF, Barcelona). PhD in Contemporary Spanish Literature (University of Edinburgh).
Taught at an undergraduate level in Scotland, Italy (Ca'Foscari, Venice) and in a Masters program for UPF, Barcelona. Currently working for Study Abroad Programs in Barcelona. Academic publications in the area of Literature and Cinema.
About me: As a Guest Lecturer for other Universities and Business Master Programs, I teach philosophical ideas through current TV Shows to students and professionals.
I love to teach: Question the answers.
Someone I admire: David Lynch.
My pillow books: Tokyo does not love us anymore – Ray Loriga.
Marc Rocas
Business, Government and Society / Leadership & Organizational Behavior / Cross-cultural Communications
Background: Ph.D. candidate at the Open University of Catalonia (UOC). Master's Degree Programme in Information and Knowledge Society. Master's Degree in Teaching. Business Administration. Electrical Engineer.
About me: I love to teach because I love to learn. I am addicted to subscriptions.
Lessons I love to teach: Lessons on inequality, ethics, and globalization.
Someone I admire: Noam Chomsky
Pillow book: Liquid life – Zygmunt Bauman.
Favorite place in BCN: Café del Centre, a coffee shop from 1873.
Cristina Rubio García
Spanish Language
Background: Studied Spanish Language and Literature and has a Másters in Spanish Education as a Foreign Language (FPELE).
About me: I love to travel, listening to music, reading, watching films and art. I like to discover new things and enjoy good times.
My pillow books: Rayuela – Julio Cortazar.
Favorite place in BCN: Bunkers del Carmel.