"Patatas Bravas" – perfect for any occasion
Learn how to prepare these delicious potatoes.
Difficulty of making patatas bravas: very easy
Time: 45min
Serves: 4
Ingredients for the patatas bravas:
2 potatoes
1 tablespoon of olive oil
Salt and pepper according to your taste
Ingredients for the sauce:
3 tablespoons of olive oil
1 diced onion
1 teaspoon of salt
1 minced garlic clove
½ teaspoon of smoked paprika
1 can of tomato sauce (14 ounce)
1 teaspoon of hot sauce (if you prefer it spicier)
Preparation:
1. Preheat the oven to 450 degrees F. For two servings, you will need to first clean the potatoes. According to your preferences, you can either peel off the skin, or keep it. Once you've decided on that, you can cut the potatoes into cubes.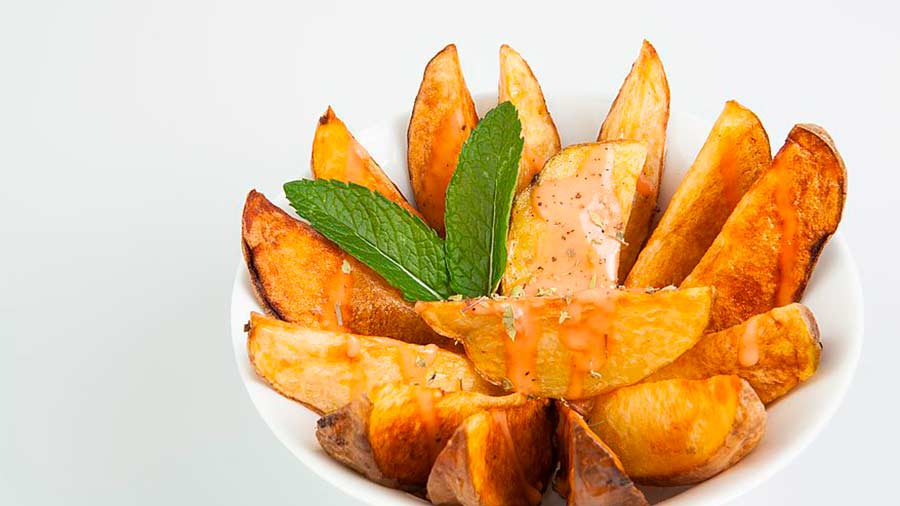 2. Place parchment paper on the baking sheet or oven pan; then place your potato cubes in the pan. If you don't have parchment paper, don't worry, nothing bad will happen, you will just have more dishes to clean once you are done! Season with salt and pepper, and add a bit of extra virgin olive oil on top.
3. Let the potatoes bake for about 15-20min, or until they've achieved brownish color.
4. While the delicious patatas are baking, feel free to start with the sauce.
5. For the sauce you will need a saucepan. Once you've acquired your tool, heat the olive oil over medium heat. Cook the onion and salt in the hot oil until it has softened, it should take approximately 3 to 4 minutes.
6. Add the garlic, smoked paprika, and hot sauce (optional) and let it simmer for 1 to 2 minutes. Stir in the tomato sauce and let all the ingredients settle for another 2 minutes.
7. Transfer your sauce to a blender (or you can use a hand blender) and blend the mixture all together until the tomato sauce is smooth.
Place the patatas bravas in a small serving dishes and drizzle with the sauce.
Buen apetito!